[toc]All great lawns, require a lawn roller. If you've ever seen those Hollywood movies with those perfectly manicured lawns, they've most likely used a roller. Rollers are essential when it comes to lawn maintenance. They can help you lay down sod or seed the ground. 
Finding the best lawn roller, however, can be a difficult process due to the sheer number of factors that come into play.
Depending on your yard size and the level of perfection you are looking for, you'll need a different type of roller. Small yards are better off with a push roller while bigger lawns are easier to maintain with a lawn tractor. Attach a steel roller or poly roller to the back of a tractor and you can simultaneously mow your lawn while rolling. This article will go over each type of roller and give you some great suggestions on what roller to buy.
Types of Lawn Rollers
There are several types of lawn rollers and each is suitable for a unique environment. Although they all serve the same purpose of flattening lawns, some models will definitely be better suited for your individual needs. 
Read the following excerpts about each type of roller to find which roller is the best suited for you.
Steel Rollers

Steel rollers, as the name suggests, are made of steel giving it much greater durability. These rollers are also thought of as the most efficient because the heavier material allows it to exert greater pressure. In essence, the heavier weight allows its to flatten grass much better than any other type of roller. However, these rollers are hard to transports and push because of its weight. A better way to use the steel roller is to attach it to the back of a garden tractor. This method saves times as well as physical labor.
TIP: Do not use it when the grass is wet as it increases the chance for rust and corrosion.
Plastic Roller

The plastic roller is the cheapest among the 4 different types of rollers. They are great for light jobs and small yard, but are inefficient with heavier tasks. They don't apply the same level of pressure as the steel rollers, leading to lower aesthetic appeal. The material also isn't the most durable, leading to easy breakage and snapping.
Poly Roller
A grade above the plastic rollers, the poly lawn roller uses a greater refined plastic. It gives them more durability than plastic rollers, but are still weaker in contrast to steel rollers. These are perfect for average garden owners as they are lightweight and portable. The only downside to its weight is that you have to fill it up with water every time, and flush the water out after use. They are great for large areas and for laying lawn or flower beds. They are very resistant to rust and can be used on wet grass.
TIP: You can fill these up with sand and forget about emptying water after each use.
Concrete Roller

A more commercialized roller, these heavy pieces of concrete rolls are one of the most efficient rollers. Heavier weight is more ideal to flatten as they require less force to produce the same amount of output as a light weight roller. Concrete is the most durable type of roller because it doesn't rust. Another advantage of concrete rollers is that they can be used in almost any lawn condition, wet or dry. The only downside we can think of is its extremely heavy weight. Without a machine to assist you, it'll be extremely difficult to transport and use this tool on a daily basis. However, if you do decide to purchase one, make sure to attach it to the back of a tractor as it's almost impossible to push by manpower.
When Should I Use A Roller?

Lawn rollers are best used when the ground is damp but not wet.
Using a roller when the ground is damp will allow for greater flexibility, allowing you to properly flatten out your lawn. However, using the roller when the ground is wet will lead to soil compaction, reducing the flow of water and air that can go between your soil.
Try to moderate use as using it too frequently can lead to higher chances of soil compaction.
Before Mowing your lawn…
Using a roller before cutting will lead to a more precise and accurate cut.
Lawn Maintenance…
Using a roller on a regular schedule will lead to that nice looking manicured carpet look.
Before Seeding the soil…
Make sure the soil is free of any debris, twigs, stones, and other things that may get in the way of the roller. Once you're positive the soil has been cleared, use the roller to flatten the area.
After Seeding the soil…
After seeding the soil you can use your roller to help push the seeds deeper into the soil and help increase the chance that the roots will grow into the ground.
After Sodding…
After putting down all your sod, roll over it with the lawn roller to make sure that the roots of the sod grow into the soil and to also eliminate any empty air pockets. When the grass begins to root, use a lightweight roller such as a plastic roller to ensure that the roots of the sod grow deeper into the ground.

After Winter…
Changes between warm to cold temperatures can lead to frost heaving, a fancy term for a bumpy lawn. Using a roller after the winter months can help you smoothen out those rough bumps.
Should I use Sand or Water for my Roller?
It all depends on preference and flexibility. Filling it with water is economically cheaper, however you have to empty it out every time. It does allow for greater flexibility because the actual weight of the plastic rollers themselves aren't too heavy. You can empty it out and take it anywhere you go.
However, using sand, you can fill it up once and leave it in there. It's much harder to empty out a roller full of sand than water.
Another big thing to consider is that if you forget to empty out your roller after filling it with water, it can lead to your roller getting warped or damaged making it useless. Please, for the love of god, empty your rollers after use.
Steel Lawn Roller vs Poly Roller
If the scope of your projects are more diverse then you may benefit from buying a steel roller such as the Ohio Steel 4T Steel Roller. This company has been in business since 1958 and all their products are manufactured in the U.S.
A downside of owning a steel roller is that it can rust over time. However, it is much more efficient than poly rollers at flattening lawn. Steel rollers are better suited for larger lawns.
For most homeowners, we recommend the poly rollers as they are much lighter and flexible. However, if you have large property or are looking to roll a farm, a steel roller might be the better choice.
How to use Sand
When using sand for your poly roller, fill it about ½ the way instead of full. This is mainly because sand is much heavier and a half barrel is about equal in terms of weight to a full barrel of water. The advantage of filling your roller with sand is that you can leave it inside your grass roller year round and it won't lead to damage.
The ultimate choice is up to you.
The Best Garden Tractor to Tow with
Husqvarna YTH24V48 24 hp/725 cc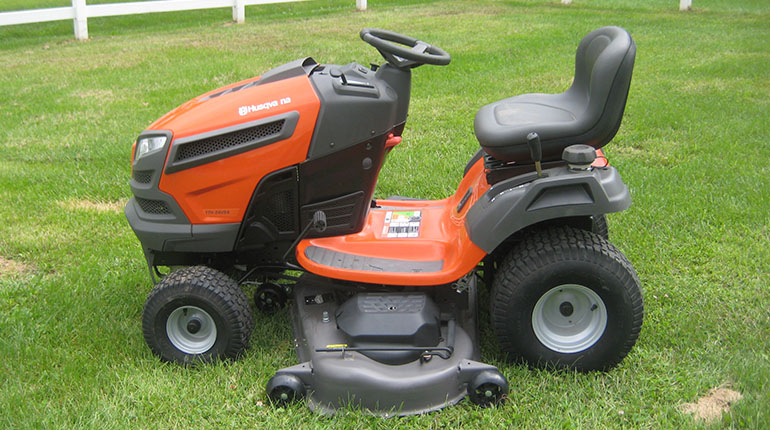 If you want to efficiently roll your lawn, we suggest attaching it to the back of a riding lawn mower or a ztr lawn mower. They greatly increase capability because pushing requires much more work and time.
If you're interested, try the Husqvarna YTH24V48. However, before you buy it make sure you check your manual and verify that the tractor towing capacity is either greater or equal to the weight of your roller.
Warning: Never use your roller to go up or down a slope with your tractor! Always make sure to roll across and use the minimum hp required to tow (12 hp).
TIP: Roll your lawn when your grass is slightly damp for maximum effectiveness.
Top 5 Best Lawn Roller
Here is our take on the best lawn rollers. We've carefully sorted through a wide array of rollers and have narrowed it down to a nice condensed list of 5.
Brinly PRC-24BH | Push/Tow Roller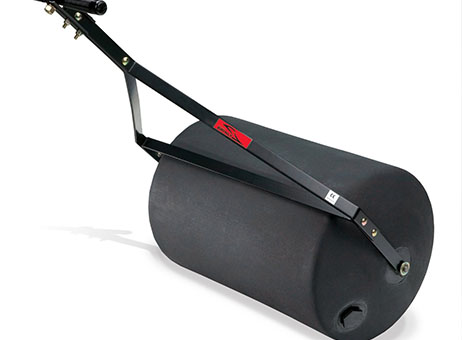 The Brinly PRC roller is a Poly lawn roller that comes in at around 270 pounds. It's the best value for the money mainly because of its durability and versatile design. After testing it for over a month on our lawns, we realized just how much smoother the grass was looking.
This roller offers both a push and tow option. Its closed grip design allows most people to push it with ease, and a dual attachment in the back allows you to clip it onto a tractor.
When filled with water or sand it weighs about 270 pounds, however it only weighs 37 pounds when emptied.
It's created with polyethylene, a material that doesn't dent or rust. It has an extra wide diameter opening which comes in handy when it's time to fill up or empty your roller. The ends are designed to be round to help protect your lawn when turning the roller. After emptying the roller of water, it can easily be hung up on your garage or shed.
Specification
| | |
| --- | --- |
| Dimensions: | 20 x 19 x 39 in. |
| Assembly: | Yes |
| Capacity: | 270 lb |
| Fits models: | Riders & lawn/garden tractors |
| Material: | Galvanized Steel |
| Reconditioned: | No |
| Warranty: | 2 yr. |
Brinly PRT-48SBH | Tow Behind Poly Roller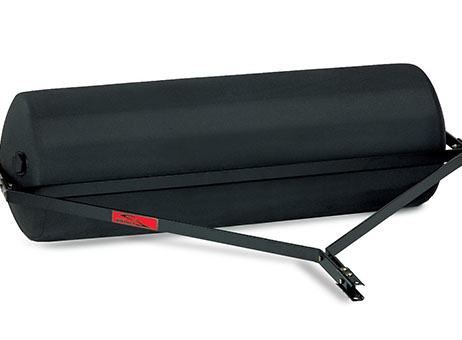 This model, the PRT-48SBH is designed to be attached to a tractor. It has a large 48inch rolling width allowing the roller to cover larger lawns. At max capacity it can weigh up to 485 pounds and can hold up to 54 gallons of water.
Like the PRC-24BH, this roller is also lightweight and very easy to carry around. Once emptied it can easily be lifted to be stored on a garage wall or shed.
Specification
| | |
| --- | --- |
| Dimensions: | 48 x 53 x 16 in. |
| Assembly: | Yes |
| Capacity: | 485 lb |
| Fits models: | garden/lawn tractors |
| Material: | Polyethylene |
| Reconditioned: | No |
| Warranty: | 2 yr. |
Bon 84-203 | Salt and Roller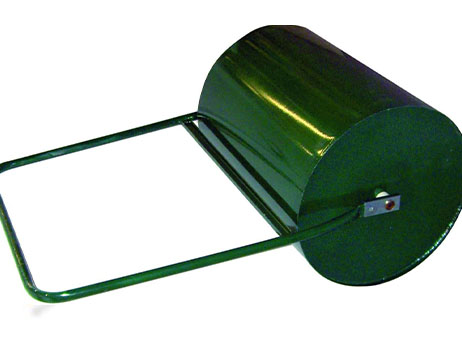 This is a full on steel built lawn roller. Its all welded steel construction make this an ideal roller for landscapers. This roller has a side hole which allows the user to fill it up with either sand or water. Most prefer to use sand as it's a more permanent solution.
Specification
| | |
| --- | --- |
| Dimensions: | 24 x 18 x 32 in. |
| Assembly: | Yes |
| Capacity: | 41lb (Before fill) |
| Fits models: | Riders & lawn/garden tractors |
| Material: | Galvanized Steel |
| Reconditioned: | No |
| Warranty: | 2 yr. |
Precision Products PLR1824 | Push/Pull Roller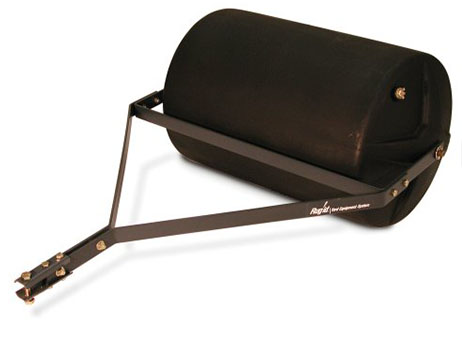 This is a great roller for packing down sod or seeds. It can also be used to help seal away mole tunnels or ruts.
It's designed to withstand dents, scratches, as well as rust. The Maximum capacity of this roller is 221 lbs or 27 gallons of water.
Some features that make this a pristine roller is its universal hitch, steel tow bar frame, and easy assembly. You can rest assure knowing that this is one durable roller that will last.
Specification
| | |
| --- | --- |
| Dimensions: | 32.5 x 19.5 x 19.5 in. |
| Assembly: | Yes |
| Capacity: | 221 lbs. |
| Fits models: | Riders & lawn/garden tractors |
| Material: | Polyethylene |
| Reconditioned: | No |
| Warranty: | 1 yr. |
Agri-Fab 45-0268 | Poly Tow Roller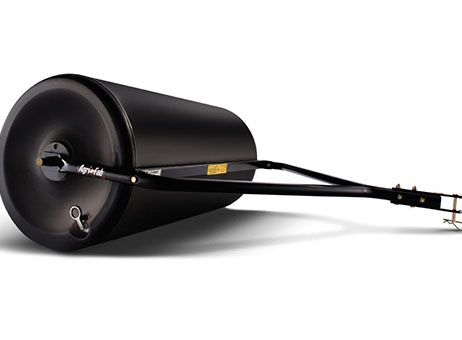 The agri-fab tow roller weights almost as much as 400 pounds when filled with water. When empty it weighs just 45 pounds. It's an amazing roller to help tackle down uneven ground or to help pat newly sown seeds or sod.
Some great features of this roller is its poly rustproof durability. The scraper bar helps stop soil from clumping up on the roller drum.
This roller is ideal for almost any garden, lawns, or parks.
Specification
| | |
| --- | --- |
| Dimensions: | 50 x 18 x 42 in. |
| Assembly: | Yes |
| Capacity: | 400 lbs. |
| Fits models: | universal |
| Material: | Steel |
| Reconditioned: | No |
| Warranty: | 3 yr. |
Final Thoughts
So there you have it, our top recommendations for the best lawn rollers currently available. Lawn rolling can be an extremely tedious task, we'd suggest you check out our cheap riding lawn mower if you're interested in a tractor. They can greatly increase your efficiency as well as help with the intense labor.
If you need additional information regarding the proper use of a lawn roller, check out this short youtube video. Otherwise visit our homepage to learn more about lawnmowers.