What is a Mulching Mower?
A mulching mower is not necessarily a single category of mower, but rather any type of mower that is capable of mulching grass.
Mulching is the process of cutting and shredding grass into very fine pieces so that they can be recycled back into the soil.  Unlike traditional mowers which collect clippings with a bagging system, mulchers throw and disperse the cut grass evenly throughout the lawn. If the grass is chopped finely enough, it will naturally make its way down towards the soil to be decomposed by microorganisms living on the surface. The decomposed clippings will then return nutrients back into the environment for other plants to use.
If you are looking for the best mulching mower, you must first find a lawn mower compatible with the best mulching blades. This will include most gas powered mowers that allow the user to replace blades.
What differentiates a Mulching Mower?
Contrary to intuitive thinking, Mulching mowers look and feel exactly the same as any other type and that's because they are essentially identical.
The only difference lies in the fact that a mulching mower (like the honda hrr) utilizes a "3-in-1" or "all-purpose" blade over the typical "2-in-1" or "high-lift" blade. An "all-purpose" blade will tend to feature a curve along the metal and a ragged edge with more teeth. They may also come in a cross formation with each blade being centered and perpendicular to the other.
The extra cutting surfaces found on a mulching blade provide more contact with grass and allow for a finer chop.
Pictured below are the two different blades for comparison purposes. As you can see, the mulching blade looks much more ragged than the standard one.
Mulching Blade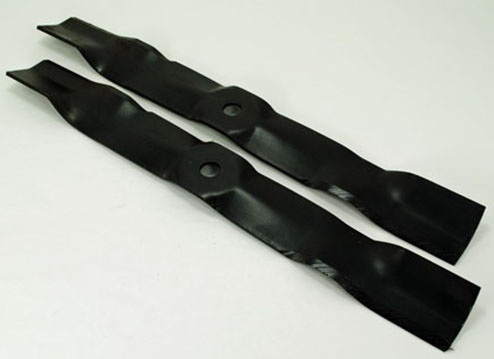 Standard Blade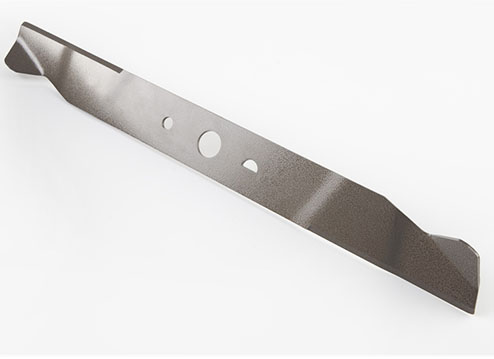 What are the advantages and disadvantages of a mulching blade?
Mulching blades will be referred to as either "all-purpose" or "3-in-1" blades due to the fact that they can be used for all 3 tasks of mulching, discharging, and bagging clippings.
They differ from the standard "2-in-1" blades which are limited to just the 2 functions of discharging and bagging. The standard 2-in-1 blade will also be referred to as "high lift" blades because they allow for a greater airflow in the mowing deck which provides more lift for the grass and clippings.
Here are the pros and cons of a mulching blade:
Pros:
Cuts grass into finer pieces which prevents clippings from clumping on the lawn

Can be used for all three types of grass disposal

Discharged clippings will be of a super-fine grade and will recycle nutrients back into the soil more quickly than clippings from a traditional blade
Cons:
Reduces lift which makes it harder to discharge grass out of the chute
For more in-depth information regarding the precise differences between each blade, check out the company TroyBilt's article.
The Best Mulching Blade
When taking a look at the following blades, make sure that they will fit your specific mower by checking your mower's specifications first.
The three things to look for are blade length, the shape of the hole in the center of the blade, and the number of blades. For example, if you need three blades you need to buy three blades! And no, you can't mix and match blades on your mower because it will offset the balance of the blades.
We recommend purchasing these blades through Amazon due to their extremely lenient return policy. If you find that one of these blades don't fit your exact mower, you will be able to receive a quick and free return thanks to their A-Z guarantee policy.
When looking at these blades, please realize that the vast majority of the negative reviews are from people who bought the wrong blades for their mower rather than the quality/performance of the blades themselves.
Oregon Gator Blades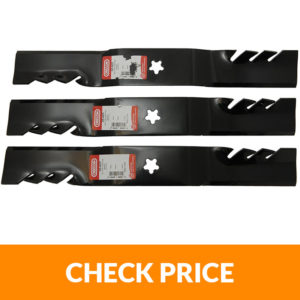 Oregon produces Gator Blades of all sizes so look for one that will fit your specific mower. Whatever size that may be, all Gator Blades are made of a super-hard tempered steel which makes them sharper for longer.
All of them also feature a patented design that mulches grass extremely well. Their unique shape can cut through even the thickest and tallest of grasses with ease, and you will notice a tremendous difference over your lawn mower's stock blades.
The customer reviews on Amazon should speak for themselves. 
MaxPower 331713X Mulching Blades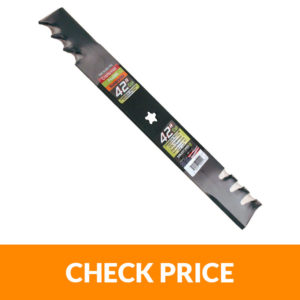 Designed to fit most riding mowers including Poulan, Craftsman, and Husqvarna, the 331713x is an American-made mulching blade that will shred grass finely and efficiently.
They significantly reduce lift to trap grass between blades for a more refined cut. Although they do not include a blocking plug for the chute, you will be able to find one easily online or in gardening stores.
Remember that you need two blades for most mowers.
Arnold Universal Mulching Blades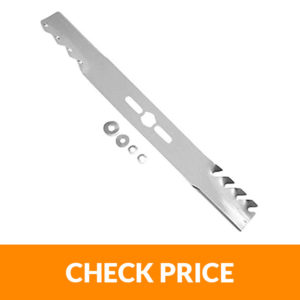 The Arnold Universal Mulching Blades are almost truly universal and will most likely fit your mower. They even include several different adapters to fit all hole sizes.
The several teeth found on the blade will be the scariest damn thing your grass has ever seen, and the super strong metal is sure to last longer than your stock blades. One reviewer called it the "best blades i've ever used".
MaxPower Universal Mulching Blades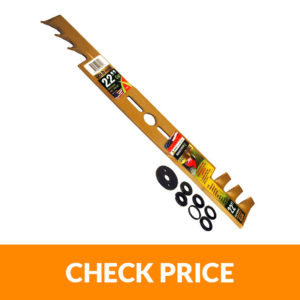 As you can see above, these blades look glorious, and even though you'll never see them while mowing, their looks will match their performance. With three, large teeth on each side of the blade – each with ultra sharp edges – the cutting surface is much larger compared to your standard lawn mower blades. This blade will come with many different washers for easy adaptability to any standard mower hole.
Other Mulching Blades
If none of these blades are compatible with your mower, here are a few tips on finding the right mulching blade.
First google your lawn mower's model number and find the blade specifications. The three most important specifications will be the length of the blade, the hole found in the middle of the blade, and the number of blades. Some mowers will use circular holes while others might use star shaped holes like the ones seen above. Finally, find a blade that matches all of these specifications. Of course, if there is a certain blade you like, but your lawn mower requires 2 blades rather than one, you can simply just buy two of them.
Here is a list of popular mulching blades on Amazon that will fit brands universally.
If you don't like any of the ones you see there, try searching the following term on Amazon: "(insert your lawn mower's brand) mulching blade" or "(insert your lawn mower's brand) 3-in-1 blade".
We recommend Amazon due to their extremely lenient return policy. If you find that the specific blade doesn't fit your mower, returns are quick and free!
Blade adapters
Since lawn mower blades have various hole sizes and shapes, you may find that a blade adapter is necessary to use a particular blade that you like. Here is a list of blade adapters for the most common mowers.  To use a blade adapter, check out the following video to see how they attach to blades.
Final Thoughts
To conclude, there really is no definite best mulching mower, but instead there are mulching kits that can make whatever mower you find into a mulcher. These kits usually come with two mulching blades and a plug for the discharge to keep clippings re-circulating between the blades for a finer cut.
First you should find a mower that suits your specific gardening needs. You can find your best match using the various resources on our site. We recommend push mowers for a smaller lawn, riding mowers for a moderately sized lawn, and a zero turn mower for the biggest of lawns. Once you have chosen a desirable mower, find a compatible mulching kit to retrofit it into a mulching mower.
Don't know how to replace lawn mower blades or would rather keep your existing blades? Read How to Sharpen A Lawn Mower Blade. Included in this article are step-by-step instructions on removing and replacing lawn mower blades.