Riding mowers are tremendously more convenient than a traditional pusher and they allow for faster mowing thanks to their quick speed and wide cutting path.
They are considered motorized vehicles and are similar in shape to a tractor. Their size and speed allow them to clear more area per second than any other type of mower.
The best riding lawn mower will have a 30-50 inch cutting width which is significantly wider than an average pusher. Most will also feature multiple speed settings to allow the rider to slow down and maneuver tight corners or more precisely mow near edges and around trees. Some more-expensive, premium riders will also offer different attachments for mulching, trimming, etc. and will be much more customizable than a typical model.
This makes them perfect for work on large lawns and gardens.
As you can see, the current market for riding mowers has a wide range of variety and purchasing the right one is difficult. Considering the fact that they cost upwards of a thousand dollars, proper research must be done to ensure that you do not overpay for unnecessary features or add-ons. To make it easier, we will be reviewing several top rated mowers based on a few simple criteria.
The Best Riding Lawn Mower Reviews of 2023
Now that you know what kind of rider is the best option for your specific needs, check out the following list of our top picks. Each model will be broken down and reviewed based on the criterion listed previously, and each list will feature a wide variety in price range ranking from cheapest to most expensive. Due to the unique nature of Zero Turn Mowers, we have created an entirely separate page for them found here.
Mower
Features
Troy-Bilt TB30R

420cc Troy-Bilt Engine
6-Speed Manual Transmission
24" Cutting Deck
18" turning radius

Husqvarna YTA18542

4-speed manual
14" turning radius
10.5 Horsepower Briggs

Raven MPV7100

6-speed manual
18" turning radius
Briggs and Stratton 190cc
Deck Width: 24"

Husqvarna YTA24V48

24 Horsepower Briggs
Transmission: Hydrostatic
16" turning radius
Deck Width: 54"

Troy-Bilt 540cc

Troy-Bilt's own 20 Horsepower
Transmission: Hydrostatic
16" turning radius
Deck Width: 42"

Poulan Pro 960420188

20 Horsepower Briggs
Deck Width: 46"
Maneuverability: Astounding 6"

Cub Cadet Xt1

Engine: 18 Horsepower Kohler
Transmission: Hydrostatic
Deck Width: 42"
16" turning radius

Yard Machines 420cc

12.5 Horsepower Briggs
Disc/Friction Drive
Deck Width: 33"
20" turning radius
Top 8 Best Riding Lawn Mowers
---
Troy-Bilt TB30R Neighborhood Riding Lawn Mower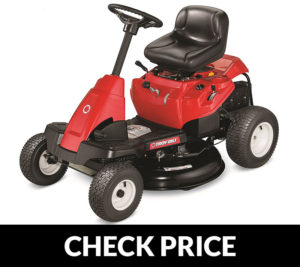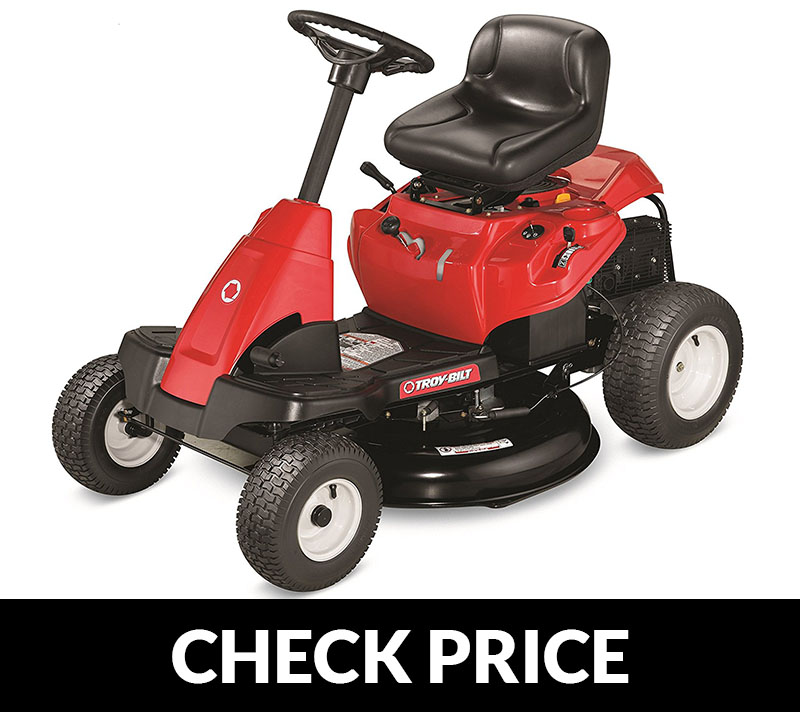 One of the cheapest, most-reliable riding mowers available today, Troy-Bilt's Neighborhood model will not disappoint. It has been tried and tested through time with over a hundred reviews on Amazon averaging nearly 4.5 stars and for good reason. With a rigid frame and powerful motor, this model will fit the bill for most consumers and will leave room to spare in the budget. If this model is out of your price range, check out push mowers like this one as an alternative.
Engine: 420cc Troy-Bilt Engine
Transmission: 6-Speed Manual
Deck Width: 30" Cutting deck with 5 different height settings
Maneuverability: 18" turning radius
Husqvarna YTA18542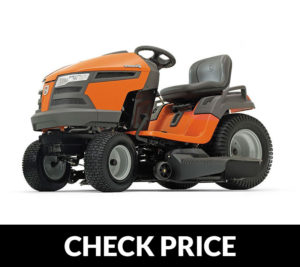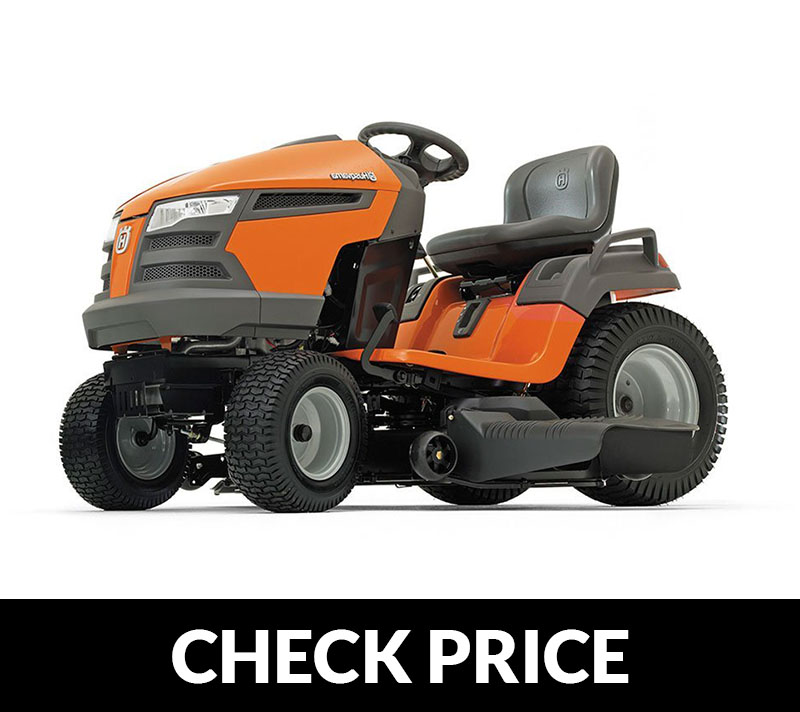 Husqvarna is one of the biggest names in riding mowers, and their reputation is upheld with this model in their pro-line of riders. It is surprisingly agile and perfectly suitable for yards with a wide variety of twists and turns. For the price, this model is one of the best values available with an updated transmission and even tighter turning radius than its predecessor.

Engine: 10.5 Horsepower Briggs and Stratton Engine
Transmission: 4-speed manual
Deck Width: 30"
Maneuverability: 14" turning radius
Raven MPV7100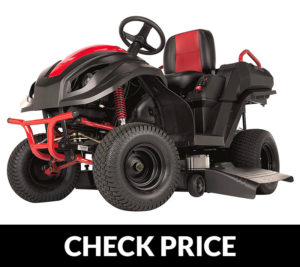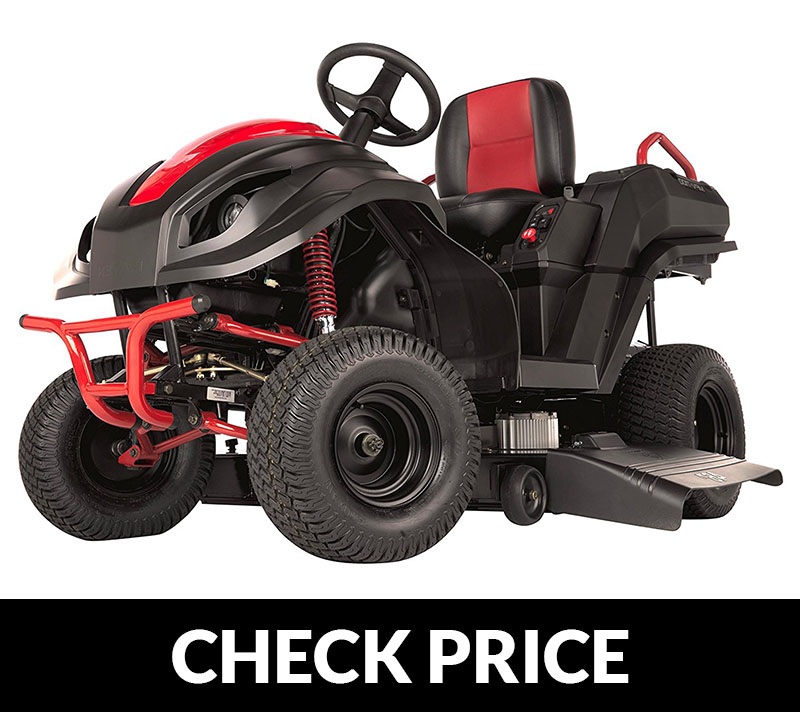 This is another bare-bone rider that provides little features outside of its intended purpose of cutting grass. As you can see, it has an extremely basic yet functional design to match its singular function. It is one of the cheapest riding mowers and is best suited for a smaller, private property.
Engine: Briggs and Stratton 190cc
Transmission: 6-speed manual
Deck Width: 24"
Maneuverability: 18" turning radius
Husqvarna YTA24V48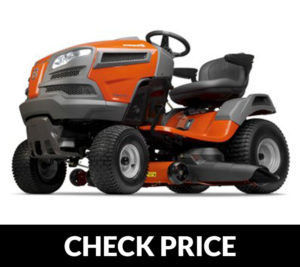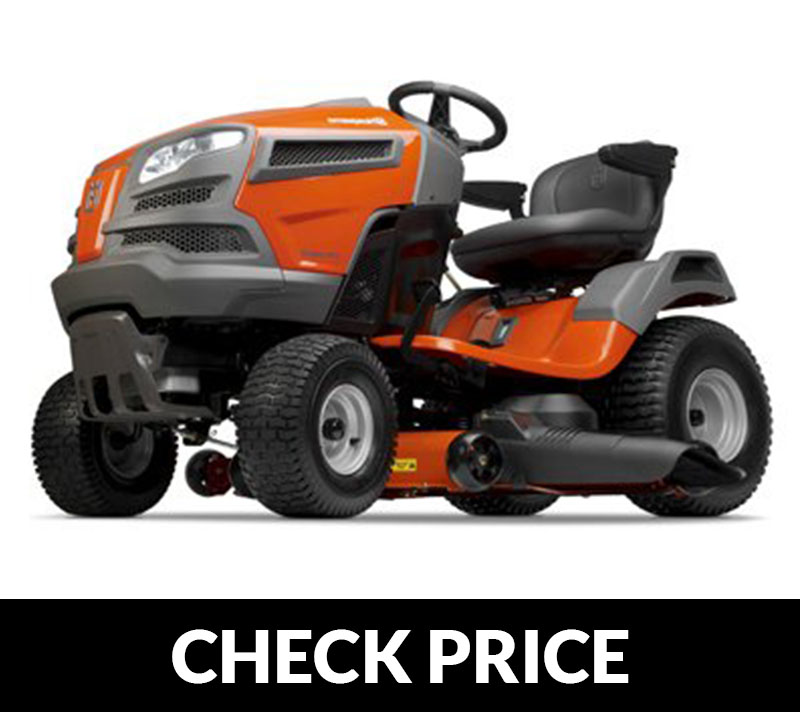 Although this is an Amazon Prime only exclusive deal, we have included it on our list simply because a lot of people are already Prime members and free trials are available to those who are not. Anyways, the price for this mower is ludicrously good when you consider its specifications. It has an extraordinarily large cutting deck considering the price range it's in, and it's powered by one of the most reliably powerful engines on the market. These features combined with a hydrostatic transmission make this mower nearly unbeatable.
Engine: 24 Horsepower Briggs and Stratton V-twin
Transmission: Hydrostatic
Deck Width: 54"
Maneuverability: 16" turning radius
Troy-Bilt 540cc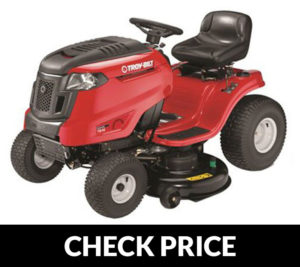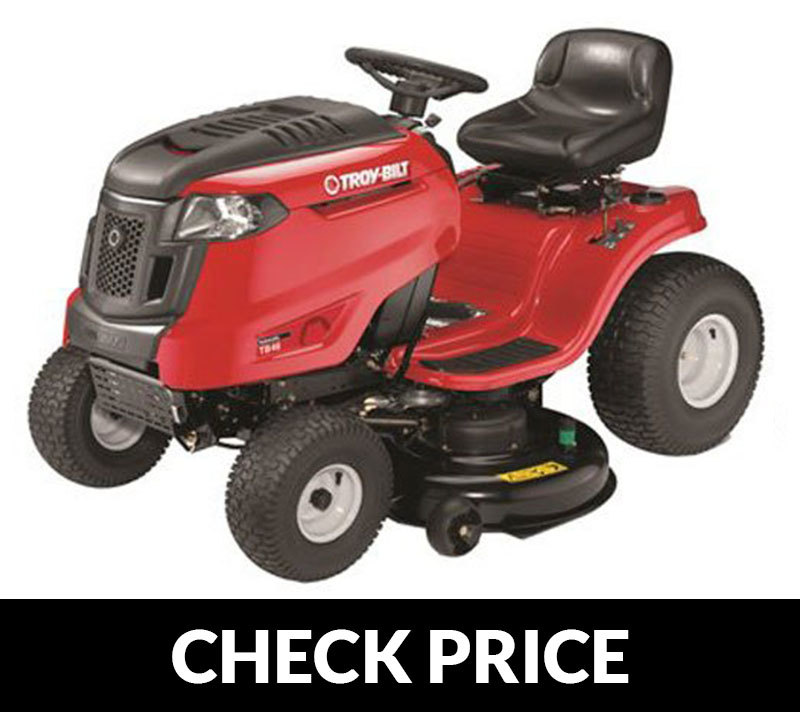 Troy-Bilt is one of the most notorious domestic brands in power equipment, and their notoriety is justified considering the quality of their products. This model upholds their reputation for excellence by providing  a well-refined, nearly perfected experience.
Engine: Troy-Bilt's own 20 Horsepower V-twin
Transmission: Hydrostatic
Deck Width: 42"
Maneuverability: 16" turning radius
Poulan Pro 960420188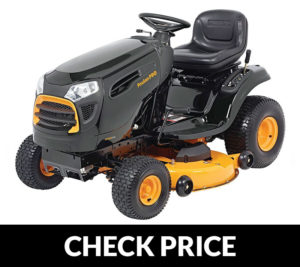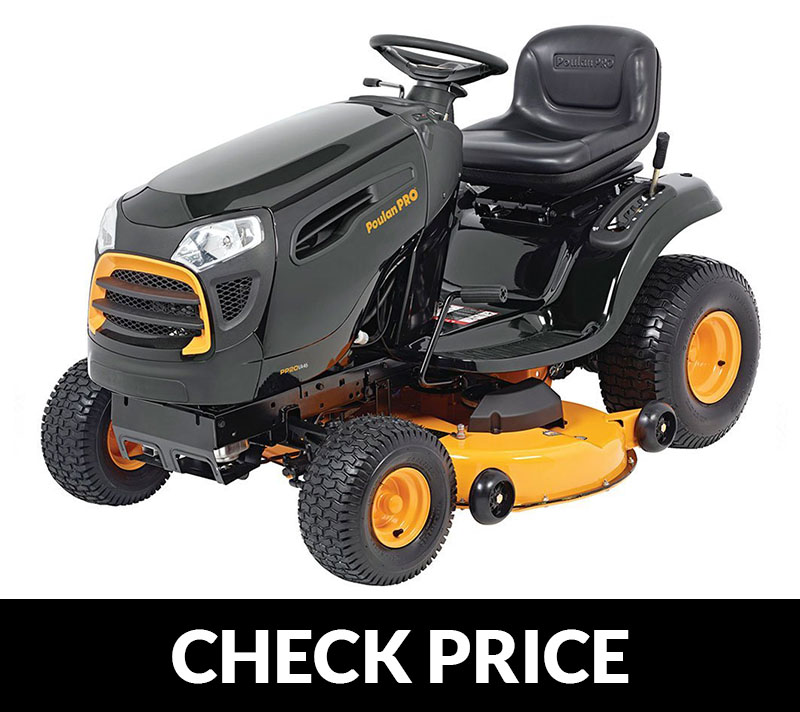 As you can see, this is a more premium model as made evident by its slick black and orange design. Outside of its high-end look, this riding mower provides many additional features compared to the two lower end models featured previously. It operates smoothly with a gas pedal thanks to its engine which is made to last, and it comes with rigid, vented deck to cut even the tallest of grasses.
Engine: 20 Horsepower Briggs and Stratton Overhead Valve which runs the vehicle up to 7.5 mph
Transmission: Automatic and noticeably smooth when changing gears
Deck Width: 46"
Maneuverability: Astounding 6" turning radius for really tight cornering
Cub Cadet Xt1 Enduro Series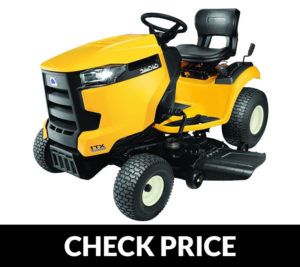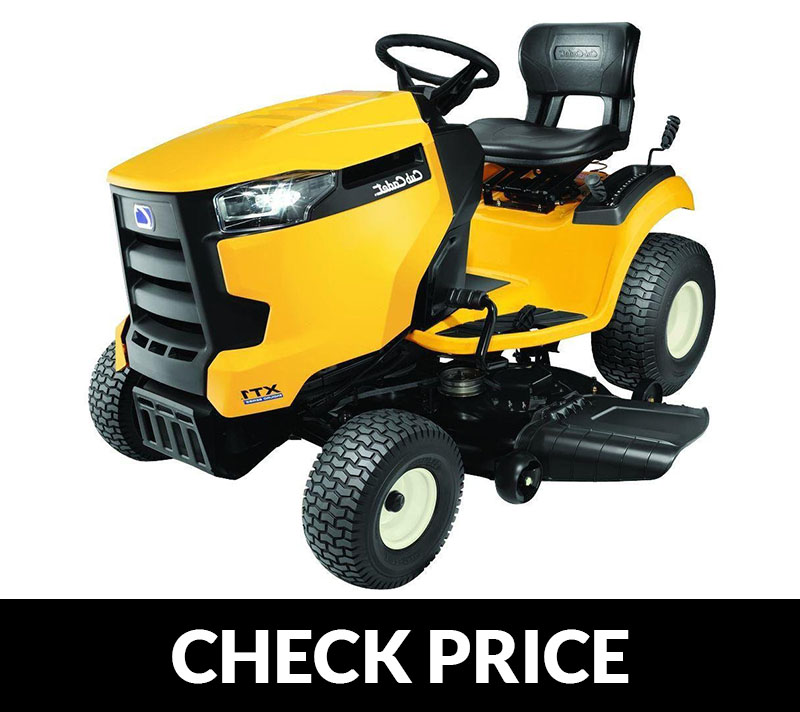 Although this is a lesser known series of mowers, the Cub Cadet Xt1 makes the list due to its value for the price. It comes with several customizeable features including 8 different height settings for the deck, and several available attachments. They boast a 42" wide snow blower attachment which is pretty impressive considering the vehicle's low price tag.
Engine: 18 Horsepower Kohler OHV (Overhead Valve)
Transmission: Hydrostatic
Deck Width: 42"
Maneuverability: 16" turning radius
Yard Machines 420cc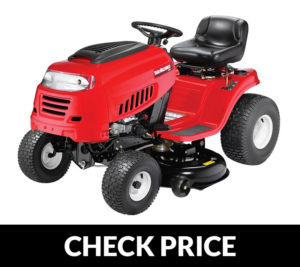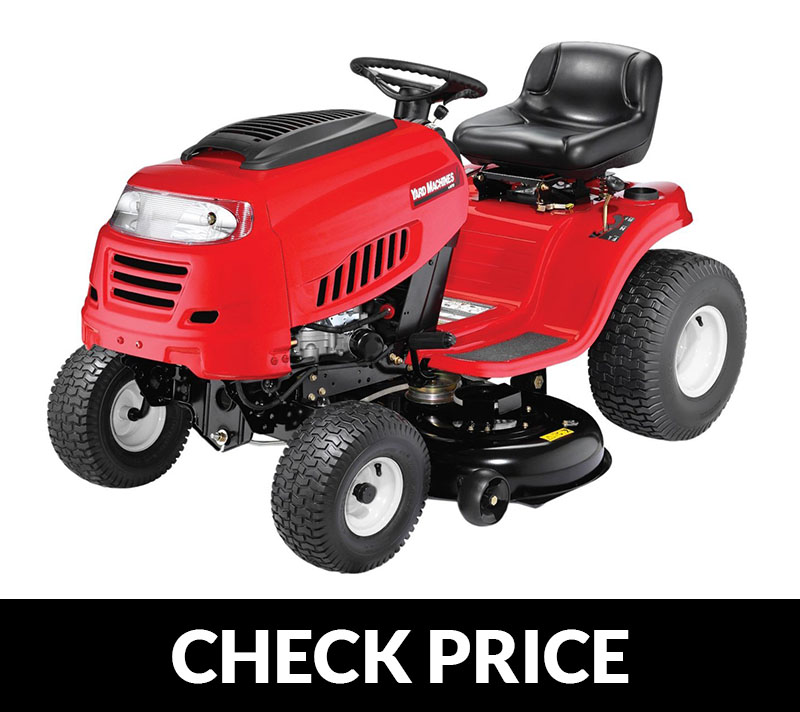 While more expensive than the last four, the yard machines makes up for the price difference with several necessary features. It utilizes a solid steel frame, and a patented deck designed to cut grass evenly and efficiently. On the side of the vehicle is a discharge for collecting or mulching clippings. This makes the yard machines one of the best options for those who do not plan on raking clippings by hand.
Engine: 12.5 Horsepower Briggs and Stratton Engine
Transmission: Disc/Friction Drive
Deck Width: 33"
Maneuverability: 20" turning radius
Types of Riding Mowers
Depending on the type and size of your lawn, you will need to determine what kind of mower is the best and most affordable for you. There are three main categories to choose from, and each is designed with a specific task in mind.
Although they all serve the same purpose of cutting grass, each type has unique qualities, and the following descriptions will provide you with the necessary information for each category.
Rear Engine Riding Lawn Mowers

This category refers specifically to mowers with engines housed in the back-side of the vehicle. They are designed for the singular task of cutting grass and cannot utilize external attachments like other riders. Rather than a tractor style design, these cheaper alternatives cost significantly less and come with no bells and whistles. They are very minimalistic in terms of functionality and aesthetic appeal, but for property owners without any desire for extensive gardening, this is the right option as they are both cheap and efficient.
Size: Smallest of the three
Price: Cheapest at around $1000-$1500
Yard Size: 0.5-2 acres depending on deck width which ranges from 30"-50"
Additional Info: Probably the best option for most people and comes in many different variations.
Pros
Cheapest of the three

Engine's location ensures that heat is not directed towards driver

Intuitive controls with a steering wheel and gas pedal

Smallest of the three
Cons
Top speeds are usually still slow maxing out at ~4.5 mph

Cutting deck is not as wide as other styles

Most models contain a manual transmission meaning speed is adjusted by hand

Attachments are typically incompatible
Lawn or Garden Tractor

A lawn tractor is probably the first thing you picture when trying to imagine a riding mower, and that's because they are the most common. Their popularity can be attributed to their functional versatility which include mowing, tilling, fertilizing, and much more. They are able to do many different jobs because of their compatibility with third party attachments.
Check out this article for the exact differences between a garden and lawn tractor.
Size: Larger than a Rear Engine Mower due to a typically larger engine and wider cutting deck
Price: More expensive and usually costs $1500-$3000
Yard Size: 1-3+ acres
Additional Info: Best suited for intensive gardeners due to their ability to utilize many different attachments. For example, they can be used to plow and fertilize land with a tiller. They will almost always have a stronger engine and more rigid frame to enable them to carry or pull heavy loads.
Pros
Wide cutting decks

Several transmission options

Faster than a rear engine with top speeds at ~6mph

Bigger engine means more power for uphill mowing and pulling heavy items

Ability to use attachments for other gardening tasks
Cons
Larger than a rear engine

Bulky shape makes it hard to steer around tight corners

Front engine blocks some of the driver's vision
Zero turn Mower

Just like the name suggests, these riding mowers are able to turn with zero turning radius meaning they can essentially rotate in place. This allows the driver to control the path of the mower with enough precision to trim right around trees and other garden obstacles. They are the fastest of the three and cut grass much more efficiently as well. Although most models are made for an industrial setting, smaller versions exist for private use. Due to their major differences from other riding mowers, we have created a separate list for the best ztr mowers.
Size: Biggest of the three due to extremely large blades and engine
Price: The most expensive costing $2500-$5000+
Yard Size: Made for even the biggest lawn, and best suited for large, flat areas
Additional Info: They provide the most control and maneuver around obstacles easily. They are also the most efficient at cutting large areas.
Pros
The best models have top speeds of over 10 mph

Gives the user the most control over direction

Almost always features a hydrostatic transmission for convenient and smooth speed control
Cons
Most expensive

Take up the most space

Not many available attachments

Usually uses levers for steering which involves a learning curve
Purchasing Criteria
Price: Cost is probably the biggest factor you should consider. A cheap-end model will cost as low as $1000, but at $1500 you will be able to afford many features worth having. If you are looking for only the best, a top of the line model will be up to $3000. For a list of the best riding mowers under $1500, check out best riding more for the money.
Engine: Different mowers will utilize different engines, and this creates a large variance in speed. Some will have a single block design while others may use up to two cylinders, and these differences along with the vehicle's weight will dictate the vehicle's speed and acceleration capabilities. Lightweight mowers will tend to accelerate and turn more readily than a heavier one, but generally speaking, they will be less stable and less powerful than a big, heavy tractor.
Transmission: Most riding mowers will fall into three categories of transmission including manual, automatic, and hydrostatic. A manual transmission will require the clutch to shift gears by hand with each gear producing a different speed. An automatic will shift gears for you much like an automatic car would, and a hydrostatic will change speeds according to the gas pedal without any change in gear.
Blade Width: The width of the blade determines how wide of a path the mower will clear as it drives. The smallest blades will be ~30" wide, and the biggest blades will be ~50" or more. This will also be referred to as deck width simply because the blade is housed within the deck.
Maneuverability: Bigger, tractor-style mowers will feel bulky and clumsy when turning which makes them ill-suited for a yard with many tight turns. Zero turn riders provide distinctly improved maneuverability and control due to their unique ability to rotate in place.
Before deciding on what kind of features you do and do not need, take a moment to consider a few important factors.
First take a look at what kind of yard you own.
If there are a lot of hills with steep slopes, you will need a mower with a stronger engine. If you plan on using your mower as a tractor, you will need a larger model with a stronger frame capable of pulling attachments like tillers and fertilizers. A larger yard will obviously require more time to mow, and therefore, a bigger blade width will be more suitable.
Final Thoughts:
In conclusion, a riding mower will be a tremendous upgrade from your standard pusher and will provide much more comfort and efficiency. They will cost anywhere from $1000-$5000+ with each price bracket reflecting a different quality and speed. Remember, riding mowers are an investment made to last decades at a time so don't pick the cheapest possible mower. Instead, look for a mower that is both affordable and made of quality parts that are made to last.
After reading this guide, if you are still unsure about purchasing a riding mower, check out our regular lawn mower reviews.