Some people like taking the hard road in life: roughing it in the outdoors, eschewing painkillers, drinking bitter spirits without chaser. To this list of activities we add a fourth option for people who want to make a weekly chore more difficult (but potentially more fulfilling) using a manual mower. This article will give some background information on the topic as well as present the best manual mower of 2023 (hint: there's multiple). Note that the best lawn mower is going to be updated once a year.
What is a Push/Manual Mower?
Otherwise known as a manual mower-it is operated without any propulsion assistance. In other words, unlike a self propelled mower that assists the user in moving the mower, this mower is moved exclusively by the person operating it.
The Best Push Mower of 2023
These are some of our favorites, and the list includes fresh mowers we haven't covered and manual versions of popular self propelled mowers. It is by no means fully comprehensive, but it is a great place to start for getting a grasp of what's out there.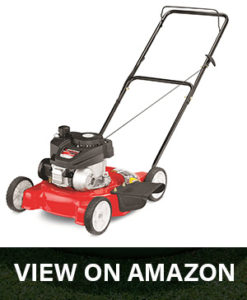 This little guy is the perfect solution for small level yards. It has an acceptable level of power at 140cc and is light and easy to use. If you are someone who struggles to control/push lawnmowers then this is one of the best recommendations as it only weighs sixty two pounds. This low price and weight is not without downsides though. There is no bag on the back of the mower to collect grass clippings, nor is there an option to eject them from the side of the mower. All in all, this is a simple mower for someone who doesn't need much to get the job done.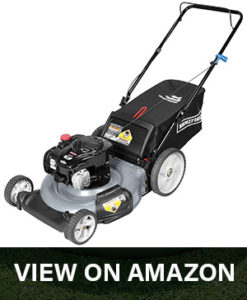 Craftsman is a classic American yard brand, and probably one you are familiar with. From tools to lawn appliances, Craftsman has established a name for themselves as purveyors of quality tools. The engine is a Briggs and Stratton 140cc, and capable of handling low to medium difficulty lawn thicknesses. The main star of this mower is the clipping discharge options. Not only is there rear, side, and mulching options, but there is also a filter to prevent dust from escaping and spreading the user allergens. This mower deserves our highest accolades, but it is important for potential buyers to know that some reviewers have had the mower start to break down after two years. Ergo, the longevity may be questionable.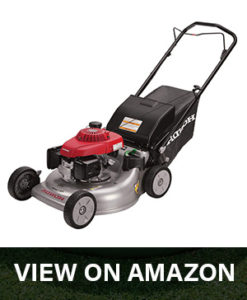 The self propelled version of this mower was covered in a different article, but the manual version is worthy of praise as well. This is probably the best manual mower. It has a well built Honda engine, off-kilter mulching blades, and easily adjustable speed controls. All of this into a manageable mower with a steel cutting deck makes this Honda a standout pick for 2023.
Another frequently mentioned brand name in the lawncare space is Husqvarna. They produce some fine mowers, and source their engines from none other than Honda. This gives them a certain baseline level of reliability coupled with affordability. This particular model is 160cc which is great for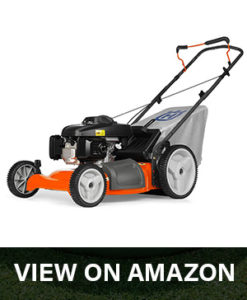 cutting most types of grass. You may run into some trouble if you try to cut wet grass, but this is a rare occurrence anyhow. One of the greatest features is the inclusion of ball bearing wheels. These oversized wheels have ball bearings in them for exceptionally smooth rolling. This makes traversing uneven terrain easier. This is especially important considering that there is no drivetrain to assist the user, so the mower must be very responsive to pushing. The only thing to be careful about is that the rear clipping collection bag must always be tightly secured. There is a very low tolerance for error with the discharge bag, so putting it on improperly will result in grass clippings spraying everywhere. Also, a word of advice, check the warranties, because there is one from Honda for the engine, and one from Husqvarna for the rest of the mower.
---
Why Should You Buy One?
Workout: Pushing the mower without assistance actually provides a pretty good workout. You won't get the same benefits as going to the gym or taking a run, but you'll definitely work up a sweat and maybe grow your calves. This is probably one of the most compelling reasons, because it allows you to turn a chore that you have to do regardless into a way to improve your body.
Inexpensive: Manuals are normally cheaper than self propelled mowers, because most people understandably don't want the extra effort that comes with using one. If you are willing to take on the challenge then you can find some good deals on quality mowers. In many cases a mower that may be out of your price range in the self-propelled category will have a manual mower counterpart that fits the budget (Honda HRR series comes to mind).
Reliable: This is highly dependent on the brand and model, but it stands to reason that manual mowers will have less repair problems, because they can't have problems with a non-existent drivetrain.
Downsides to Ownership
There is essentially only one. Any other concerns/problems that arise are shared by all mowers, so they wouldn't be appropriate to address for manuals specifically.
Difficult to Operate: If you are older or relatively weak then a manual mower might not be the best option. It is harder to push, and it can be difficult to go over bumpy terrain or fight a literal uphill battle with gravity. The savings are not worth it if mowing becomes a near impossible task.
Final Thoughts
I hope this article was able to provide perspective into the fascinating world of manual mowers. Whether it be the affordable tenacity of the Yard Machines or the self confident glow of the Honda, there is sure to be a mower that fits your tastes. Make sure to check out the other articles on the site, and email any questions you may still have. If you want to learn more, we have an article on the best electric lawn mowers.