Reel mowers are iconic pieces of American history. You have seen them in old movies and books, and may remember a family member who used to mow with them. These machines aren't just for the past. Although they might not be the best lawn mower for this century, they sure are great for when you need to do the work without any gas or electricity.
They offer some very real benefits to modern day users, and best of all many have new advanced features to make the mowing experience even better. However, finding the best reel mower can be "reel" difficult considering the sheer number of reel mowers available out there. Let's cut to the chase (pun intended) and see what the buzz is surrounding these seemingly simple mowers.
What is a Reel Mower?
This type of mower has blades mounted parallel to the ground on a central axle that rotates when the mower is pushed forward. With this type of blade setup the mower blades cut grass by clipping it (same motion as scissors). The end result is a clean cut that is uniform.
This style of cutting is actually healthier for the grass than the rotary blade found in all other mowers. Rotary blades tear or shear the grass, which leaves ragged edges that can cause the grass to be susceptible to insects or poor health.
Why Should You Buy One?
Lawn Appearance: Using a push reel mower gives your lawn a much nicer overall appearance. Professional groundskeepers use reel mowers for this reason (theirs are much larger and pulled by tractors).
Quiet: Not only are reel push mowers quiet, because they have not gas/electric motors, but they also produce a soothing clipping noise. This may sound weird, but it can be very meditative to mow the lawn with a reel mower, because of the calming, repetitive sound of clipping.
Safety: Traditional mowers have hundreds of safety risks. Each year there are reports of people injuring themselves or loved ones due to a lawnmower accident. A common injury is a child's hands/toes getting run over. The design of the reel mower minimizes these calamities, because the blades won't spin unless you are pushing the mower.  
Downsides to Ownership
Effort: It takes more energy to use a reel mower, because not only are you pushing the mower forward, but you also have to push at a decent rate so the blades move fast enough to cut the grass.
Not Ideal for Large Lawns: The cutting width of reel mowers is very small from 9 inches to 16 inches. Thus, mowing a large lawn would take a long time, but that may be ok for some people.
The Best Reel Mower of 2023
Upon first examination you would think that all reel mowers are created equal, but that is most certainly not the case. Each of the below mowers has some extra feature or is commendable in its overall design/usability. We tried to pick mower's that fall into all price ranges. In general, reel mowers will be less than any other type of mower. Let's take a closer look at this year's options
---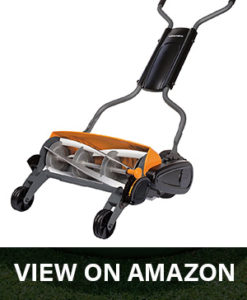 This mower is the most advanced reel mower on the market. Coming from a brand that is known for their quality cutting products (scissors/craft cutters/etc.) this is no a surprise. The Staysharp has a blade system befitting its name considering it will be between five and ten years before you have to sharpen the blades.
The reason for this is that the blades do not touch each other while cutting, so there is no deterioration due to blade on blade friction. Another important thing to note about this push reel mower is the heavy weight. Coming in at fifty six pounds this mower is not light, but that actually has the benefit of providing the user with more inertia once they start pushing. Finally, the Fiskars is able to deliver a more powerful cut vs. conventional reel mowers.
They claim that cutting power is two hundred percent higher, while this exact claim can't be fully verified it is certain that the Staysharp cuts grass well. It can even handle taller grass, and more difficult to cut varieties. The one major problem with this mower is the small cutting width. The advertisements all say 18 inches, but in reality it ends up being more like 16 inches.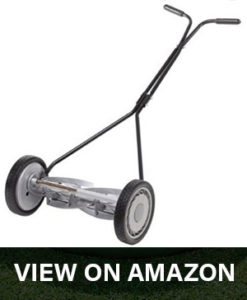 This is the classic American made mower you have probably seen in old movies/books. It doesn't have any extra features, but it is as well built as a reel mower will ever be.
The blades are heat treated, the body is powder coated to be scratch resistant, and the wheels have bearings so they roll smoothly. This mower will provide a great cut, and best of all it is very affordable, and will last for years to come.
One recommendation that we are going to give is to spray the blades with some sort of aerosol lubricant (WD-40) because it makes them stay in sharp condition longer. The negatives to this mower are its smaller cutting width, lack of lawn clipping bag, and its difficulty with mowing tall grasses. This is definitely the best reel mower for the money.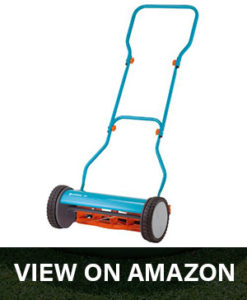 This is a great mower, but unfortunately its price is a bit high. That being said, if you are in the market for a mower with features like an adjustable folding handle, lawn rake (smooths grass as you cut) and an undeniably attractive color scheme-this is the mower for you.
Overall, this mower is the king of ergonomics. It has large wheels, light construction, and an easy to grip handle. When you combine these features you get a smooth and effortless mowing experience.
The bottom line is this: if you can afford it then we recommend it, but you're going to get more value for the money if you go with the feature filled Fiskars Staysharp.
Reel Mower in Action
Final Thoughts
Reel mowers are a unique breed of mower in that they seem antiquated, but they are actually still a very viable option. The above descriptions only touched on some important points, but if you would like to learn more about a specific mower be sure to check out our reviews.
Ultimately, we are going to nominate the Great States as the best reel mower of 2023, because of its unbeatable combination of affordability and quality construction/performance. If you want to learn more about mowers go checkout the best self propelled lawn mowers.