It is never too early to begin thinking about mowing season, and you may find that when you dust off the old lawnmower that it just isn't working like it used too. In your search for a new mower you have come to the right place. This guide will attempt to illustrate specifically the components or features that go into the best self propelled mower. So let's dive right into our top selections of the best lawn mower.
What is a Self Propelled Mower
It is a lawn mower that assists you in pushing it by either front or rear wheel drive. This drive works like a car, and will activate when you squeeze the two mower push handles together. The actual speed is dependent on the pressure-more pressure=faster speed-less pressure=slower speed.
The Best Self Propelled Lawn Mower of 2022
Although there are a variety of capable mowers out there, here are a few of our favorites. There will be a brief overview provided for each mower, but if you want more check out the individual reviews.
---
Honda has an excellent reputation in the lawn care space for providing quality equipment. This mower is one of the best, and is noteworthy for its excellent cutting performance and useful features. The rotary blade has two points where grass is cut, which means that it is cut cleanly and finely. This blade is housed in a tough all steel deck. Aside from the cutting ability, features like auto-choke (you won't need to adjust the choke while mowing) and a comfortable handle make this mower a joy to use. Finally, there is the powerful Honda engine that will last for many mowing seasons to come, and is backed by a large residential warranty. Our only gripes with this mower are the slightly higher price tag (you get what you pay for) and the rear wheel drive. We would have preferred front wheel, because it makes pulling the mower backwards easier.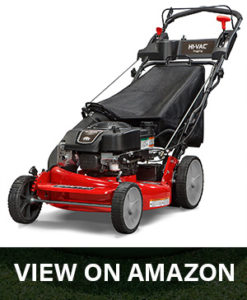 The Snapper is the most powerful push mower we reviewed, and boy does it deliver. The driving force between this high performance is two fold: a tough Briggs and Stratton 190cc engine and a vacuum suction system for the grass clippings. The engine will be able to power through tougher varieties of grass like Zoysia, and handle wet grass better. Some users have reported their engines lasting upwards of 20 years! This superior engine is combined with Snapper's proprietary Hi-Vac system which creates a high suction system below the cutting deck. This translates into more grass clippings bagged than on your lawn. As usual with these best-of-the-best lists we don't have much to complain about except for the higher price. It is worth noting that some users report that putting together the mower can be a difficult process.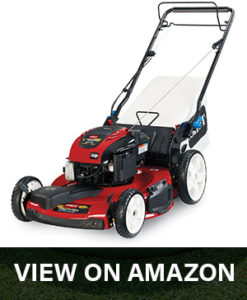 The Smartstow is one of the best values in mowers. It is a great all around performer with a solid engine and an innovative storage feature. Like the Snapper, the Recycler has a 190cc Briggs and Stratton engine and a steel cutting deck. Although, when you look further, the Toro has the Snapper beat in useful features. One such feature is the mower's namesake-Smartstow. This is a fancy way of saying that the mower can be folded and stored upright, which saves a lot of space in a cramped garage. Additionally, the back wheels are incredibly big, so mowing over uneven terrain will be easier. Although the cut quality may not be as sharp as the Honda this mower is a serious contender for the best self propelled lawn mower of 2022. That being said, watch out when going up hills, because the front wheel drive is a bit weak, and the mower could stall.
Why Should You Buy One?
Difficulty Mowing the Lawn: If you struggle to mow the lawn with a conventional manual push mower then a self propelled mower is a good alternative. You will still get the same cut, but you won't be straining to move the mower forward. Instead, the mower will pull itself along and you will just have to direct it.
Speed: The fact that you are not pushing the lawn machine forward allows you to mow the lawn a lot faster, because you get "pulled along." With a manual mower your pushing endurance is the limiting factor, but when using a mower with a drivetrain how fast you can walk is the limiting factor.
Reliability: Self propelled mowers have been around for awhile, and are the go to choice for most homeowners when it comes to cutting their lawns. There are hundreds of fantastic models to choose from, and prices are very affordable. Since the technology has been around for so long problems are easier to troubleshoot. Finally, in comparison to products like robot mowers there is no complex setup or doubt about whether the lawn will be cut properly.
Downsides to Ownership
Steering: One of the negatives to owning a self propelled lawn mower is that it can be hard to steer. In order to turn corners tightly you will have to pull the mower back a bit, and fight the resistance from the spinning wheels. The strength required to do this is not excessive, but it is something to be aware of.
Work Required: In the end, you will still have to be outside mowing the lawn, which for most people is a chore. The only option that avoids this chore is buying a robot lawn mower, but these are expensive and can sometimes be problematic to maintain and setup.
Final Thoughts
That may have been a longer article, but we wanted to make sure you got a great glimpse into what makes a self propelled mower great. The three mowers we presented represent our choices for the best self propelled lawn mower of 2022. Each has its own strengths that far outnumber any weaknesses. To sum it all up, if money's no object go with the Snapper or Honda-if it is, go with the Toro. The advantage here is that regardless of which you choose you will be satisfied. We hope you enjoyed this article, check back for more great content, and read our in-depth mower reviews for a better look at the above mowers and many more! If you want to learn more about best push mowers then click here.