Spring is finally upon us, and it is time to dust off the lawn care equipment and get to work! We've covered mowers extensively, but realized many visitors want to know what additional accessories can make their landscaping job easier. Today's article will focus on highly rated trimmers. Below we've provide overviews of some of our favorites-now you have no excuse not to have the best lawn on the block!
1.
WORX 32V

– Best Weed Wacker (Editor's Choice)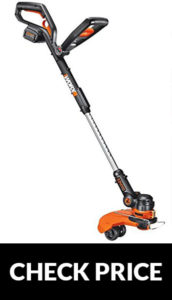 Key Features
Trimming Diameter: 12''

Power: 32V

Doubles as Edge Trimmer
I've personally used this weed wacker more times than I can count, and it has stood the test of time as being the single best product I have ever purchased from a TV ad. That doesn't mean the WORX is without flaws, but what it does mean is that there's a lot to love. Let's dive in.
This electric weed eater's claim to fame is its versatility. It can double as an edger that works relatively well. The plastic wheels can make it hard to precisely roll the unit when edging, but overall the machine does a pretty good job. Aside from versatility, the ergonomics are well thought out: the handle has different locking positions, the grip is comfortable, and converting from trimmer to edger is simple. In regards to the battery, you can expect fair performance (up to 35 minutes on the lowest power setting). If you have a larger lawn consider purchasing an additional battery. In regards to power, this will work well on grass of average thickness, but may get caught on thick grasses and weeds. If power is what you need consider the EGO (see below).
The negative to this weed wacker is the string, which is prone to breaking (in my experience) and doesn't always automatically feed out when you need it to. That being said if you order through WORX's website you'll get free string for life.
Overall, this is an easy to use, battery operated, weed wacker edger combo. Its price is affordable, and is a great addition to the average homeowner's landscaping arsenal.
2.
GreenWorks 4Amp 13″

– Least expensive Weed Eater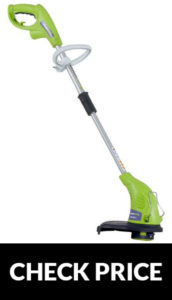 Key Features
Trimming Diameter: 13"

Power: 4 AMP (corded)

Adjustable shaft
Sometimes you need an inexpensive tool to manage a small amount of grass-here is your answer. The Greenworks corded electric trimmer handles average length grass, but really lacks the power to take care of thicker varieties and weeds. The exclusion of a battery pack makes this mower insanely light-it weighs in at 5.25 pounds. There is also an instant on electric start, which makes it simple to quickly get to cutting.
This weed eater isn't perfect though, and honestly coming in below thirty dollars I wouldn't expect it to be. You'll have to put up with poor string quality unless you decide to replace the spool, which is highly recommended (we suggest DeWalt .08 trimmer line). Some reviewers also complained that the machine would stop working properly after a year. While the 4 year product warranty should address this, in reality it can be hard to comply with Greenworks requirements. One reviewer was told to go to a far away repair center, and would have to leave her trimmer there for 3 weeks!
All in all, buy the GreenWorks if you want to save boatloads of cash, but don't expect extreme longevity. You might end up having a problem free experience for years and years, but that shouldn't be an expectation.
3.

EGO

-Most Powerful Electric Trimmer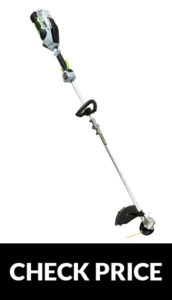 Key Features:
Trimming Width: 15"

Power: 56V

Fast charge battery
This trimmer is a monster that will cut through tough graph and weeds with ease. It has great ergonomics, fast charging, and a durable design. EGO has always been a company we admire, and they brought their best to the table with this unit. With features like bump string autofeed (that actually works) an extended, high quality aluminum shaft, and a fast charging battery (~45 minutes to recharge) this is truly a product to behold.
It is important to realize that you will need to be wearing protective eyewear and long pants when using this trimmer. The power output is strong enough to fling small debris like pebbles and twigs all over the place. If you are not careful you could get scratched up or injure you eye. With regard to the runtime EGO claims 40 minutes, but users experience anywhere from 20 to 35. These numbers will always be dependent on the types of grass/weeds you are cutting, so 40 minutes represents an absolute best case scenario. Additionally, some people are put off by the high price of replacement string ($10) but you can wind any brand of string on the spool (though it must be the right size). Finally, this quality comes at a steeper price that can be off putting to certain consumers. That being said, this battery powered weed wacker is a great example of getting what you paid for.
4.
BLACK+DECKER LST 300

– Best String Trimmer for the money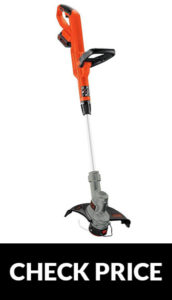 Key Features
Trimming Width: 12"

Power: 20V

#2 Bestseller on Amazon
A step up from the Greenworks without hurting the wallet, the B+D weed cutter is a no-frills standard weed wacker. Just because it's cheap doesn't mean it's featureless. This machine boasts an autofeed spool that takes away the need to constantly bump the unit's head against the concrete to get more line to release. Additionally, it can also be reoriented to edge. Unlike the WORX, there are no stabilizing wheels which is a bummer, but par for the course at this price point.
Review wise, this product either elicits a stoutly positive reaction or a severely negative one. This is because some reviewers have had their models break down quickly. This does not seem to be the case across the board, but durability may be an issue. At the sub $60 price point you can't expect as much longevity from your tools.
Ultimately, we recommend this over the Greenworks because it is cordless. Especially with weed wackers you want to be untethered. This is the one of the lowest prices you can pay for that privilege.
5.
Tanaka TCG27EBSP

– Best Commercial String Trimmer on Amazon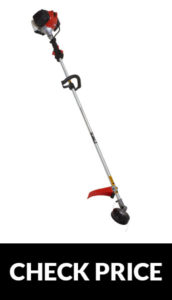 Key Features
Trimming Diameter: 17"

Power: 26.9cc

Easier pull start
Tanaka vs. Echo
Our final recommendation is great for people who need a trimmer for a business, or simply want commercial grade cutting capabilities. In regards to the design, the large dual line trimmer head will trim larger swathes of grass and is easy to load with string. The padded d-ring handle is easy to hold and the steel shaft is useful in dampening vibrations. Tanaka also manufactures a synthetic oil which includes fuel stabilizers and proper oil ratios. Tanaka oil definitely contributes to Tanaka product longevity.
Some of the features that truly make this trimmer a standout are the innovations made to the pull cord start, which decrease the amount of pull needed to start the unit, and the generous warranty. Tanaka will cover the weed eater for 2 years if it is being used for commercial purposes, 7 year (personal usage), AND will cover the drive shaft for life.
In regards to negatives, a user reported that the fuel line seemed to deteriorate abnormally fast. It was an easy fix, but disconcerting and potentially hazardous. Additionally, there is consistent debate over which is better Tanaka or Echo.The Echo was mentioned by one reviewer as having a better grip, but in the end that same user chose to buy a Tanaka. While we haven't researched the Echo, we can say that if you purchase a Tanaka you can expect a quality machine.
FAQ
What oil is best for a weed wacker?
For non-electric wackers you'll need to have the proper ratio of gasoline to oil. If you put too much oil then you risk gunking up the engine, but too little and the machine will be under-lubricated. So how much is too much? It depends on the brand. Each brand of weed wacker has its own ratio to follow. For example, Weed Eater brand trimmers use 40:1 (gas to oil). The oil and gas themselves need to meet certain requirements.
The oil should be made for 2 cycle (or 4-cycle) engines-it depends on what type of engine is in your trimmer. Do NOT use oil meant for cars! Many brands of weed trimmers sell oil specific to their brand of trimmer. You can check out some that are currently available on Amazon.
The requirements for the gas are that it is no greater than ten percent alcohol, and that it is eighty seven octane.
What's the best string trimmer line?
We will write a more in-depth article on this topic down the line, but here's the quick facts. There are 4 main categories of trimmer line: round, serrated, twisted, and multi sided. For most homeowners who don't have extensive weed problems round line will be best. It is durable and less prone to breaking than the other options. That being said, it is the least sharp option, and therefore the weakest. The strongest option will be twisted line, which is also very durable. In regards to thickness there's a simple rule of thumb-the thicker the line the heavier/thicker weeds it can cut through. Actual diameters range from .065 inches to .110+ inches. When you purchase trimmer line it normally comes in a one pound circular container known as a "donut." One of the best brands, unsurprisingly (they make great mulching blades) is Oregon's GatorLine. You can check the gatorline out here.
Weed Wacker blades
What happens when you have an especially tough weed job ahead of you or you want to cut some light brush instead? You just take your weed eater and add some weed wacker blades. These strong (and sharp!) steel blades attach to trimmers, and allow you to cut tougher landscapes. This is the closest you'll get to string trimmer mower attachment.  Make sure you check to see if your weed eater will fit the blade you consider buying. After a quick search on Amazon we recommend the Grass Gator, but this area is very dependent on what mower you're using/whether it will even support blades. Check out some blades here.
Can you use a string trimmer to edge?
Technically yes, but if the trimmer isn't built for edging (unlike the WORX 32V) you'll need to be very careful you follow the sidewalk line. The WORX 32V has wheels to allow you to push the weed wacker turning it into a battery powered edger, but without wheels you have to hold the unit above the ground and stabilize it laterally. Needless to say, this can be a difficult undertaking.
Weed eater brands
WORX: This is a company that is constantly pushing the limits in the electric landscaping arena. From electric gas shears to a string trimmer on wheels to caster wheel mowers, they have some hit or miss products, but we are always impressed by their creativity and innovative approaches.
STIHL: This company is well known to professional landscapers as a true commercial workhorse. They produce high quality gas weed eaters and other yard tools that are both powerful and reliable.
DEWALT: This is another company with strong commercial ties that also produces respectable products suitable for home use. Most notably their DEWALT is a beast of a machine, but we still prefer the EGO.
EGO: This brand is a true favorite of the site. They are making a name for themselves by producing lawn equipment with enough power to rival gas products. Remember when Tesla showed the world that electric cars were just as powerful? Well EGO is paving the way for mowers and electric string trimmers.
Greenworks: The final mention is Greenworks. They were included in our best weedwacker reviews because they produce solid electric lawn machinery at an affordable price. These are great for your run-of-the-mill lawncare needs.
Well there you have it, we did the research to find the best weed wackers so you wouldn't have to. Now all that's left is to get to work. Here's to a great spring filled with the smell of flowers, barbecue, and freshly cut grass!