WORX WG719 Review
Editor Rating -

6.5/10

Customer Rating -

6.7/10
Summary
Time for another review of a WORX mower. We have discussed WORX in the past, and this mower lives up to their ethos as an inventive company. The standout feature on an otherwise bland mower is the addition of front caster wheels.
Do these wheels actually make a difference, or do they detract from the mowing experience? Let's find out.
| | |
| --- | --- |
| Model Number: | WG719 |
| Cutting Width: | 19' |
| Ignition Method: | electric start |
| Max cutting time: | 45 minutes |
| Drive: | manual push |
| Deck Material: | Steel |
| Cutting Height: | 1.5'-4'' |
| Included Accessories: | Grass bag, mulcher |
| Weight: | 56lb |
| Speed: | manual push |
| Clipping Discharge: | Rear bag/Mulch/Side discharge |
| Consumer Warranty: | 3 years |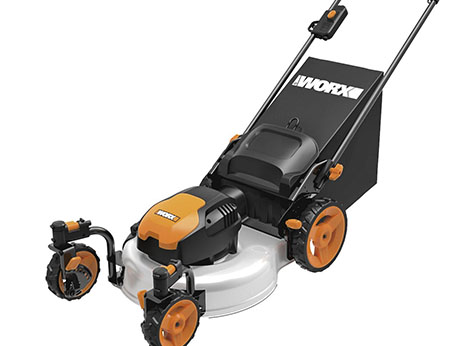 Pros
Steel Deck: Like the Earthwise 50220, the WG719 comes with a steel deck for enhanced durability. The steel deck is combined with a special mulching blade that has two sharpened sides. This combination ensures that the grass is mulched into the smallest pieces possible. Since mulching is healthy for the grass WORX has accurately (yet gimmickly) labeled their innovation as "Nutricut" TM.
Caster Front Wheels: These wheels are the same as those found on a shopping cart-they rotate on an axle, but also around the surface they are attached to (see image below). This feature allows the user to deftly maneuver the mower, and pivot around the back wheels in a way that is not possible with traditional mowers. This versatility is great, but in certain situations such as mowing uphill you don't want the mower to be too easy to turn (it will slip). WORX anticipated this problem, and added a locking mechanism to the caster feature. Whenever you want you can make the caster wheels act like regular wheels to get the extra rigidity you need.
Cons
Caster Wheels: Surprise! The caster wheels are also the source of some of this mower's problems. The wheels do not want to stay straight when you mow, so it is a constant battle to align the mower in a straight line. Also, because the front wheels stick out so much, mowing in corners is difficult.
Weight: The steel deck adds some weight to the mower, and since the mower is not self propelled this is an issue. Thankfully, the mower is not hard to push (the caster wheels help with this), but you may exert yourself slightly while mowing uphill.
Rear Bag: Some people report that rear bag chute has open spaces that launch grass clippings at the user, because it wasn't designed properly.
Q&A
Final Thoughts
The WG719 is a strong mower with a polarizing feature: caster wheels. If you have a windy-hard to cut lawn (and don't mind mowing the corners with a weedwhacker) this could be the mower for you. Those of you who have traditional boxy lawns may find the casters too hard to control. In the end the decision is up to you. If you need more food for thought be sure to check out our handy guide, which includes a section devoted to the best electric mowers.