Husqvarna 315 Review
Editor Rating -

8.7/10

Customer Rating -

9.1/10
Summary
The Husqvarna315 is a state of the art robotic lawn mower. It comes feature rich with built in proximity sensors, rain detection, safety lock, and a mobile phone app. It allows the user to fully customize it's mowing schedule as well as remotely control the unit through the phone app. Overall it's an amazing piece of machinery if you're looking to save time on mowing your lawn.
Summer is here and ain't nobody got time to mow their lawns. The Husqvarna 315 is a great addition to your lawn mowing arsenal. It'll automatically mow your lawn without your supervision. It comes with a set of unique features such as the remote control app that you can install on your phone to control the unit's schedule. Apart from that, it comes equipped with state of the art steel blades that will leave your grass looking fresher than your average push mower.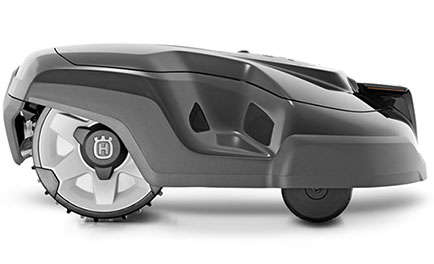 The Husqvarna is designed for medium to large lawns, aiming at a target audience of around 16,000 square feet. Unlike most traditional robot mowers, this special unit can go up slopes up to 40%. If you're in search of a reliable bot to cut your lawn without supervision, then the Husqvarna Automower 315 will be, without a doubt, a great selection.
Husqvarna 315 In-Depth Review
Reliability
The Husqvarna corporation has over 20 years of development in the lawn mower industry, proving it's credibility. You can expect only the utmost piece of tech, from one of the industry leaders. Their robotic lawn mower's have undergone intensive testing as well as numerous refinements to make them one of the best units.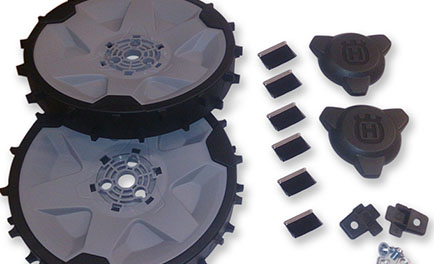 Safety
The most important feature that every company must consider is safety. Without proper safety measures, products can be harmful to humans as well as the environment. Luckily, the Husqvarna comes equipped with safety features that make it perfectly harmless. It has tilt and lift sensors that instantly stop the blade rotors if the unit is lifted or comes in contact with anything. There is also a Pin lock built into the program to ensure that no one else can access the bot's schedule besides the owner.
Quality Cutting
According to the manufacturer's patented free movement pattern method, the unit is able to cut the lawn perfectly with a patterned carpet-like appeal. Dual blade technology allows the razor-sharp rotors to cut the grass from all angles, leaving a very gentle yet sharp look.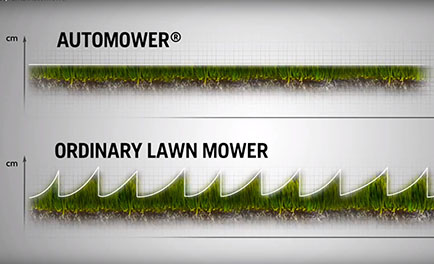 Weather Timer
With the built in weather time, you're able to adjust the working time of the unit based on your lawn's growing rate. In essence, this entails the mower to work during periods of strong grass growths and rest during dry seasons. By programming this weather timer correctly you're able to increase the efficiency of your cuts as well as decrease wear and tear on the bot.
Automatic Charging
When the battery starts to get low, the unit will automatically go back to its original charging base. This means that the unit is completely autonomous and hands free. It will run based on your schedule and charge when it needs to. You'll never have to put a hand on the bot to make it work.
Installation
Installation is very simple and there is a wide array of tutorials available on youtube to guide you through the process. The installation manual comes with the package and is available to you online. Below we have provided you with a demonstration.
Noise Level
This bot generates almost no noise, 58 dB. We even test ran this unit during midnight and could hardly hear a thing. It would be surprising if anyone ever complained about the noise, because it's about as quiet as it gets.
Weather Proof
If you're worried about rain or harsh weather damaging your unit, then you're in for a surprise. The automower 315 comes 100% insulated to protect it from rain and debris. It entails that your unit will be completely waterproof and can run during rainy seasons. However, if it gets too wet the rain sensors will activate forcing the unit to return back to the base charging station until your lawn dries out.
Phone Application
What's cool about this robotic mower is that it comes in with a smartphone application that allows the user to control the unit remotely. You can set the schedule, time, as well as manually control your mower from a distance. Using this app, we learned that we could make the bot work off schedule as well as switch zones when needed without having to manually reprogram the bot. An amazing time saver!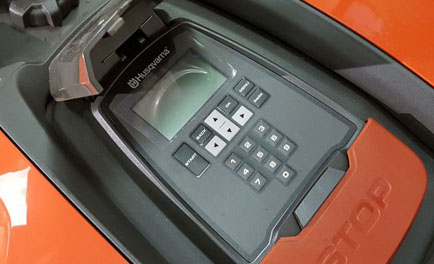 Capability
We tested this mower's capability for 2months and can vouch for its productivity as well as efficiency. Thanks to its four wheel design, two large back wheels and two small front wheels, it allows the unit to get great traction even while tackling steep hills and bumps along the lawn. Although it takes longer than an average push mower or riding mower to mow the lawn, it does it all hands free. Thanks to the unit's tiny frame, it's able to maneuver through tight places and reach areas that most lawn mower's can't get too.  
Specifications
| | |
| --- | --- |
| Working Area: | 0.37 Acres |
| Battery Type: | Li-ion |
| Charging Time: | 60 min |
| Sound Level: | 58 dB(A) |
| Weight: | 19.8 lbs |
| Dimensions: | 9.8 x 24.8 x 20.1 INCH |
| Cut Width: | 8.7 INCH |
| Cut Height: | 0.8 – 2.4 INCH |
Pros Vs Cons
Advantages:
Automatic scheduling

Smartphone app for full control

Extremely quiet

Can go up slopes (40%)

Easy to setup

Full autonomous, does not require supervision
Possible Disadvantages:
Setting up perimeter wire can take time depending on lawn size

Can't go up or down ledges

Cost vs. Time
Final Thoughts
Overall a very well rounded robotic lawn mower. The Husqvarna 315 offers a very comparable value alongside the Robomow RS630. It has all the features that the Robomow offers as well as better maneuverability and faster setup. In terms of cost it's at the mid range level. However, over time this robot will pay for itself in no time. We definitely recommend you to check out amazon if you are looking to purchase one, they offer the best prices as well as the fastest shipping times.