WORX Landroid Review
Editor Rating -

8.2/10

Customer Rating -

8.5/10
Summary
Built for a small lawn (1/4 Acre), this fully programmed unit, the Landroid has got to be one of the easiest robotic lawn mowers to use. It's easy to setup and does exactly what it claims. It mows your lawn autonomously. If you want to save money and time in the long run, this is a great starter bot to try out.
When it comes to finding the perfect robotic lawn mower, there is a wide variety of different robots. The Landroid is targeted towards the budget audience, retailing at the cheapest price while offering amazing specs and performance capabilities.
If you hate mowing your lawn and would rather have a cute little robot do the job for you, the Landroid will become your best pal. We've trial this bot for several months now and can say that it has truly lived up to its expectations. Without further ado let's get to the WORX Landroid WG794 review.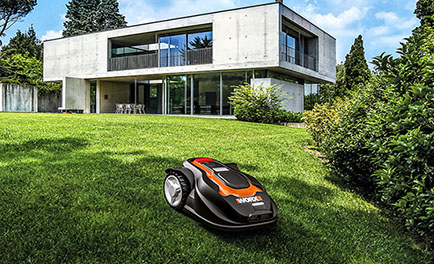 Specifications of the Landroid
Model Name:
Landroid WG794
Area Covered/ hour:

1,000

m²

Max Slope:
35%
Noise:
63 dB
Blades:
Replaceable rotors/ blades
Dimensions:
370 x 260 x 550 mm
Weight:
8.3 kg
Cut Width:
18 cm
Cut Height:
2 – 6 cm
Charging Time:
90 min
Important Features
 There are many features that make this a great unit. It has the ability to make accurate movement choices, meaning that it won't run into obstacles or mow during extremely rainy days. We think this bot is pretty smart when it comes to autonomous cutting.
Programming the Schedule: 
It's actually really easy to program this robotic lawn mower. All you have to do is install the smartphone app and use its easy to set user interface to pick the right schedule for you. It will mow at anytime of the week whether it be night or day. It's extremely quiet and produces zero emissions, running entirely on electric energy.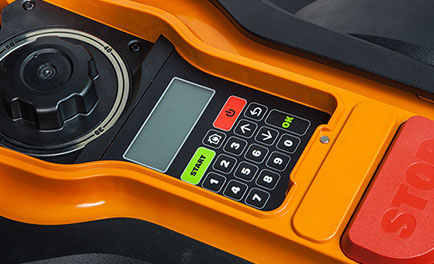 Navigation & Safety:
 If you're worried about an uneven lawn, you can put your mind at ease knowing that the Landroid comes equipped with state of the art cutting blades, that will easily manicure your lawn regardless of how uneven it is. Also don't worry if your dog or child is out back, the Landroid comes with a built-in proximity sensor that will force the unit to stop its blade the moment it comes in contact with anything. It will instantly stop the blades, turn around and continue the mowing process in a different direction.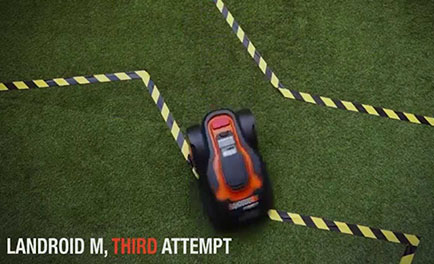 Custom Cut Size: 
Depending on the lawn, everyone has different lengths. Luckily, with the Landroid you can adjust the height of the blades anywhere between 6 – 20 cm. It gives you flexibility when it comes to mowing different areas of your lawn. With a small twist of the knob on the top, you can go from the lowest height to the highest.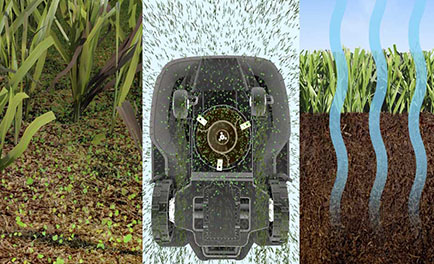 Rain Detection: 
Everything has been thought of beforehand. Don't worry about the rain as the built in rain sensors will automatically detect if there is too much water. Once activated, the sensors will force the unit to return back to its charging station and await for the weather to clear up. The bot is actually weatherproof, however, it's not the best idea to keep it running during rainy seasons or during harsh thunderstorms. It can lead to long term damage and your unit breaking down earlier than expected.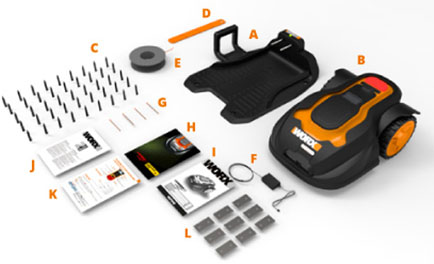 OTA Updates & UI/UX: 
The interface that comes with both the phone app and the small digital display on the Landroid is one of the most sophisticated designs we've ever come across for a robotic lawn mower. It's been developed so the average lawn owner can easily setup their necessary schedule as well as program it to the highest efficiency so that it'll work tailored to your lawn. What's interesting about this particular unit is that it has OTA (Over the air) updates, in essence your unit will be forever future proof. As more updates come out, you'll be the first to receive them.
Potential Drawbacks of the Landroid
Initial setup and Edges:
The initial setup of the copper wiring can be very tedious and difficult. Initially took us just under 3 hours to properly setup the wiring so that the bot would know its exact boundaries. On top of the setup time required, we realized that the unit could not cut edges near fences and hedges. You'll have to use your whipper snipper to get that nice clean edge, but don't fret the technology is soon to come.
Copper Wire Safety:
If you have pets or children you should be mindful when setting up the copper wiring. It can be very sharp and can lead to injury if not careful. We would suggest everyone to stay away from the wire until it has been completely embedded by the overgrowth. Also any tampering or damage to the wire can lead to malfunctions in the Landroids pathing.
Supervision: 
When you initially setup the Landroid, make sure to give it a supervised run to ensure that it doesn't get confused or mess up. My observing the unit on its first run, you can make sure it gets all the patches as well as sort out any glitches with the pathing.
Testing the Landroid
Below is a video of a test run of the Landroid. You can see it go around several obstacles, we think it's a great demonstration video to show off just how capable the unit really is.
Pros Vs Cons
Advantages:
Lightweight Design

Automatically mows lawn

Cheap running cost

Eco Friendly

Built in Sensors and mobile application control

Affordable price
Disadvantages:
Can be tedious to set up

Can't mow edges

Relatively slow compared to push/rideable mowers
Final Thoughts
Overall the Landroid is a great piece of machinery. The amount of time and money it could save you in the long run is undeniable. It's designed for simplicity, anyone can set it up and have it running flawlessly in no time. If you're seeking that fresh cut every day of the week, this unit will soon become your favorite tool.
As more and more updates roll out, the Landroid is becoming more efficient. Hopefully in the future, a newer model will come out that can mow edges. Apart from that we think that the Landroid will be an efficient solution to your lawn mowing troubles. If you're interested in buying one, go check out amazon. They offer one of the most reliable and fastest shipping options.
Frequently Asked Questions (FAQ)