Use a Mulching Blade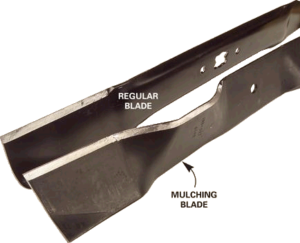 This is one tip that many homeowners overlook, but it can have a lasting impact on your lawn. A mulching blade will slice the cut grass finely, and redistribute it to the lawn. Once the clippings are decomposed they act as a natural fertilizer; thus, helping your lawn stay healthy.
The added benefit of having a mulching blade is that you will be able to cut the grass quickly, and handle thicker grass with ease (due to the design of the blades). For more info on mulching mowers consult our guide.
Fertilize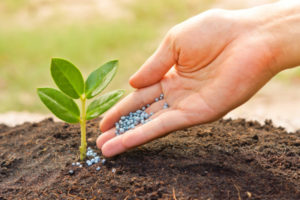 Fertilizers are composed of macronutrients (most common are Nitrogen, Phosphorous, and Potassium) that feed the grass and promote growth. You should ideally fertilize 4 times a year: early spring (April-ish), later spring (4 weeks after first application), early fall, and late fall. One out of the four times should be done with a natural fertilizer such as manure.
If synthetic fertilizer is being used (e.g. Scotts) then you should purchase granules NOT spray; this will ensure a more accurate application. Professionals use spray, but they know how to account for weather conditions and ensure an even application
If you are not sure what percentage of Nitrogen, Phosphorous, and Potassium to get (Potash) then the standard recommendation is 20-5-10 (N-Ph-P). Make sure you get a bag that says "slow release," because that will allow you to wait longer in between fertilizing sessions.
Get rid of Weeds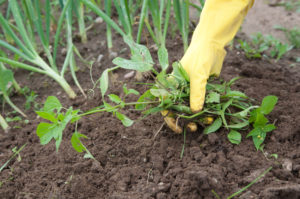 Weeds are not necessarily a major health problem, but they sure do look bad. There are a few ways to get rid of them: spraying and uprooting. Spraying is effective, but can mistakenly be applied to the lawn/flora nearby and discolor them. On the other hand, uprooting is far more time consuming. I'll leave the decision up to you, regarding methods, but if you choose to spray and want a non-toxic method (for humans) try white vinegar. The acetic acid in the vinegar will shrivel the weeds, and not pose any health risks to children or animals. I only mention this, because many commercial weed killers are filled with toxic chemicals. A relative of mine actually received a toxic oral neuropathy, because she sprayed pesticides and mistakenly inhaled some.
Sharpen your Lawn Mower Blades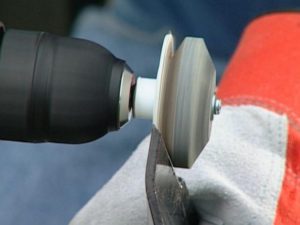 A dull blade will tear the grass or worse yet not cut it at all. You don't want to have to cut at a slower pace, or constantly go over uncut spots, so do yourself a favor and get your lawn mower blades sharpened. You should ideally have them sharpened once a year. If you want more info check out our guide on how to sharpen a lawn mower blade.
Water your lawn in the morning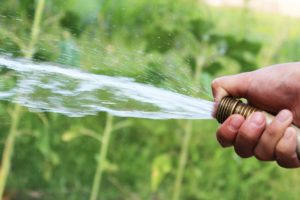 Watering in the early morning will ensure that the excess water on the grass blades will be evaporated by the sun during the day. If you water in the evening, the water will stay on the grass until the sun comes out the next day. This prolonged dampness may cause the formation of mold or fungi.
Aerate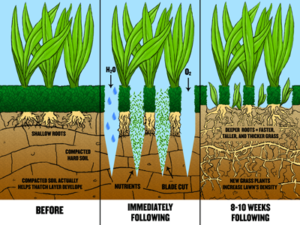 Aerating is the process of creating hundreds of tiny holes in your lawn. This allows nutrients and air to better circulate, and for the grass roots to extend deeper. Lawns that undergo heavy use from activities such as children playing will need aeration, because the soil becomes compacted due to the constant pounding. The best time to aerate is either early or late spring when the grass is in its growing season.
Lawn Roller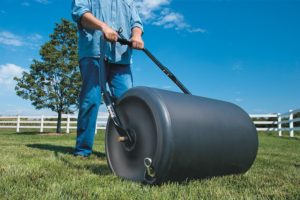 This final tip is perfect for those of you who have bumpy patches in your lawn. Simply buy a lawn roller to even out those unsightly spots into smooth perfection. Lawn rollers can also be used after seeding in order to push the seeds further into the ground, so their roots have a higher chance of taking hold. For an in-depth guide on which lawn roller to choose, check out our guide.
So there you have it, our 7 steps for a beautiful lawn. Check out the rest of our site for more tips, guides, and reviews.