Husqvarna 7021P 160cc Review
Editor Rating -

7.5/10

Customer Rating -

7.3/10
Summary
Husqvarna is a household brand for mowers, and has produced a diverse lineup of products with varying levels of success. The model we are discussing today is a fantastic mower on paper; it marries the quality of Honda engines with standard mowing features, and a design that is aesthetically pleasing (who doesn't love a shiny orange mower?).
Want to find out what we liked and what we hated? Read on mowers.
| | |
| --- | --- |
| Model Number: | 961 33 00-19 (7021P) |
| Cutting Width: | 21'' |
| Ignition Method: | Pull-cord start |
| Engine: | Honda GCV |
| Power: | 160cc |
| Drive: | manual push |
| Deck Material: | Steel |
| Cutting Height: | 1.25'-3.4' |
| Included Accessories: | Rear bag and mulch kit |
| Weight: | 66.0lb |
| Speed: | manual push |
| Clipping Discharge: | Rear bag/Mulch/Side Discharge |
| Consumer Warranty: | 3 years |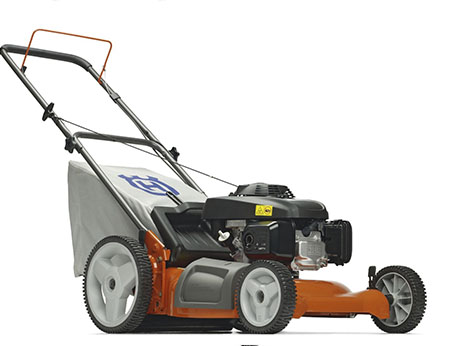 Pros
Affordable Quality: This mower is powered by the impressive Honda engine. These engines are considered the best in the lawn mowing industry. The same engine on a Honda brand mower would cost extra, so by buying a Husqvarna you are getting a deal. This engine is strong enough to power through most types of lawns, but if you have a lot of tough grass consider something slightly more powerful.

Has all the necessary features: The three available discharge types are supported. The mower deck is robust and adequately large. The handle is adjustable, and can even be compacted to stay folded parallel to the ground (easier storage).

Attention to Detail: Husqvarna made sure that their wheels were large and contained double ball bearings. In other words, this mower rolls over your lawn with comparative ease. Another detail is the included 2.2 cubic feet bag that is made of a soft material that can easily be emptied.
Cons
The bagger must be fully attached, or else clippings will go everywhere. This sounds like a simple recommendation, but many people don't double check to see if the rear bag is properly attached.

Sometimes low quality manufacturing from Husqvarna. The engine may be exceptional, but some consumers have received products with missing screws. Likewise, the deck is not as durable as it could be and the handle seems to have decreased in quality from previous years.

Dual warranty: Engine has Honda warranty and mower has Husqvarna warranty. If there is a problem with one (Honda for example) they will blame Husqvarna (ie Husqvarna's warranty should cover it) and you will have to negotiate over which company will make the repair.
Q&A
Final Thoughts
The Husqvarna is halfway to being one of our favorite gas powered mowers- the Honda HRR, but comes up a bit short. Although, it has the engine the reliability of some of the larger deck components is questionable. Overall, the Husqvarna is a quality mower that we recommend IF you can not afford our favorite Honda.