Yard Machines 140cc Manul Mower Review
Editor Rating -

5.6/10

Customer Rating -

6.8/10
Summary
Yard Machines makes some simple little mowers that do their job and not much else. The model under review is a light machine that won't be a strain to push, and definitely won't strain your wallet. If you are looking for the latest and greatest this mower isn't for you, but if you just want to get the job done-look no further.
While the core performance is acceptable the lack of extra features/ergonomics lowers the value score. Time to see why.
| | |
| --- | --- |
| Model Number: | 12AKC2A3766 |
| Cutting Width: | 21'' |
| Ignition Method: | Pull-cord start |
| Engine: | Powermore OHV |
| Power: | 140cc |
| Drive: | Rear Wheel Drive |
| Deck Material: | Steel |
| Cutting Height: | 1.25'-3.75' |
| Included Accessories: | none |
| Weight: | 62.0lb |
| Speed: | manual push |
| Clipping Discharge: | Rear bag/Mulch/ |
| Consumer Warranty: | unavailable (commercial 90 days) |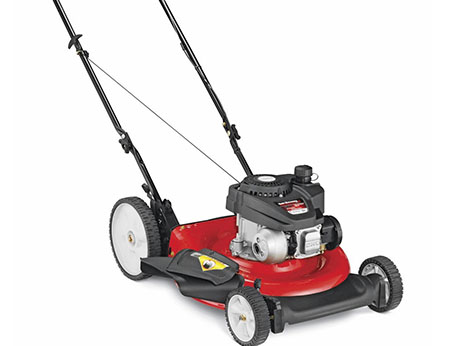 Pros
Maneuverable: At 62lb the mower is the perfect weight for a push mower. Many older people struggle to push lawn mowers, and for those of us who are physically capable it is still no joyride. Thankfully, the light weight is combined with large, rugged wheels all of which make mowing far easier.
Cons
There are many missing features: The mower does not come with a rear bag or support side discharge. The engine is imported and of lower power. This means the mower may struggle slightly in thicker grasses. This is such a bare bones mower that many comfort features such as a padded handle or one touch height adjustment are excluded. In the end this mower feels incomplete as though someone said "What is the least amount of attributes required to call something a mower." If that was Yard Machines' aim then they definitely achieved it.
Final Thoughts
This Yard Machine mower manages to cut the grass decently, and come in at one of the cheapest prices for any mower on the entire site. If money is the single biggest criterior when buying a mower, this is a good choice. If you want a higher quality machine for double the price check out the Honda HRR series here.