Ariens Razor 9115 Review
Editor Rating -

6.5/10

Customer Rating -

6/10
Summary
The Ariens mower is our final recommendation for our classic top 5 self propelled mowers of 2023. It is American made, well technically the engine is from China (more on that in the cons section), and built with a heavy duty steel cutting deck. This mower's cutting prowess is its main strength, but the parts are not quality.
The mower's earns some hefty points for its lawn chopping ability, but is not necessarily the best value for your money. Let's see why.
| | |
| --- | --- |
| Model Number: | 911175 |
| Cutting Width: | 21'' |
| Ignition Method: | Pull-cord start |
| Engine: | Briggs and Stratton |
| Power: | 159cc |
| Drive: | Rear Wheel Drive |
| Deck Material: | Steel |
| Cutting Height: | 1.0'-4.0' |
| Included Accessories: | Rear bag and mulch kit |
| Weight: | 97.0lb |
| Speed: | Variable up to 3.2 mph |
| Clipping Discharge: | Rear bag/Mulch/Side Discharge |
| Consumer Warranty: | 3 years |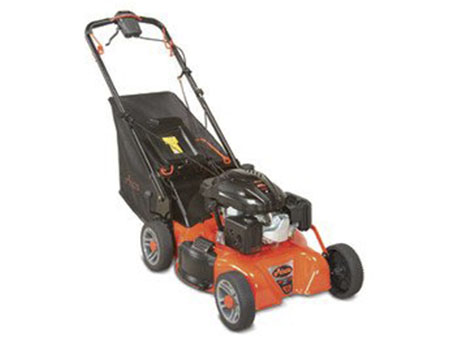 Q&A
Pros
Quality cut: The Ariens cutting deck is truly a thing of wonder. It was touched on in the top mowers article LINK LINK LINK, but allow me to go into more depth. It has a deep dome, which makes it easier for the mower to handle tall grass. On the same note, the pitched deck improves the mulching capabilities. Finally, switching between different discharge methods is a breeze.

Ergonomic features: The mower has 3 handle heights that you can alter simply by pushing on the lower handle (called the bail). Additionally, the rear bag is spacious, so no need to make multiple trips mid-cut to empty grass.
Cons
The mower is heavy. Even though this is a self propelled mower 97lbs is a lot to deal with. There are many instances, mainly maneuvering the mower around in a garage, where you will need to position/mower the mower. If the mower is heavy there is a risk of strain when trying to manipulate it in the off position-even for actions like turning it on its side for cleaning.

Uncomfortable Variable speed: The handle that controls the variable speed can be hard to depress. This leads to hand pain after a long mowing session. In our opinion, this is a huge deal breaker. You will be mowing your lawn for around 45 minutes, and you cannot afford to experience discomfort the entire time.

Chinese made engine: Not as reliable, and you shouldn't have to pay a premium for it when you can get a Honda made engine/briggs and stratton for less (both of which are higher quality).
Final Thoughts
The Ariens Razor 9115 is a mower that leaves us with mixed feelings. It starts out with rock solid core attributes-good cutting deck etc.-but the high price and reports of faulty parts don't sit well with us. If you don't like any of the other top 5 recommendations we would suggest the Ariens, but as a standalone pick we are not 100% confident in its abilities.