Troy Bilt TB330 Review
Editor Rating -

7.2/10

Customer Rating -

7.5/10
Summary
Troy Bilt is another popular (generally lower end) mower that competes with Toro. This particular mower is everything a mower should be with nothing extra. You will get a decent mow without having to decently empty your pocketbook.
The mower's crisp performance, reliable components, and comfort features have elevated its value score. Let's see why.
Core Specs
| | |
| --- | --- |
| Model Number: | 12AKC2A3766 |
| Cutting Width: | 21'' |
| Ignition Method: | Pull-cord start |
| Engine: | Briggs and Stratton |
| Power: | 163cc |
| Drive: | Rear Wheel Drive |
| Deck Material: | Steel |
| Cutting Height: | 1.25'-3.75' |
| Included Accessories: | Rear bag and mulch kit |
| Weight: | 80.0lb |
| Speed: | Variable up to 3.0 mph |
| Clipping Discharge: | Rear bag/Mulch/Side Discharge |
| Consumer Warranty: | 3 years |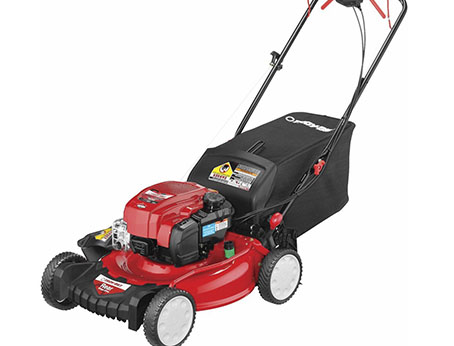 Pros
When I was considering pros/cons for this mower I reached a roadblock. This mower is a solid product, but it is incredibly underwhelming. In fact, I don't think it would be an exaggeration to call it boring. Sure it has the excellent Briggs and Stratton engine, a rake gaurd, and some ergonomic features, but other than that it is just a well made mower. It is perfect choice for a first mower if you don't want to spend that much money, but for slightly more you can get a more impressive machine with greater performance and features.
Cons
There are some complaints about the plastic levers that are used to power the rear wheel drive. Some people have reported that they are not that durable, and others reported that the levers dig into their hands in an uncomfortable manner. 
Q&A
Final Thoughts
The TB330 from Troy Bilt is simple mower, but in this simplicity is great value. It is a jack of all trades-pretty good at almost all aspects of mowing yet expert at none. This is the ideal mower for a first time buyer who wants a nice all around machine without breaking the bank. If you want to be the owner of one, Amazon currently stocks them. If you want a more premium mower designed to last a longer time, check out this mower from Honda.