American Lawn Mower 1204-14 Review
Editor Rating -

7.8/10

Customer Rating -

8.4/10
Summary
No reel mower is as traditional as the American. Its classic bright red/orange metal frame is reminiscent of a radio flyer wagon, and its performance is equally legendary.
| | |
| --- | --- |
| Model Number: | 1204-14 |
| Cutting Width: | 14' |
| Where grass is disposed: | backwards |
| Cutting height: | .5'-1.5' |
| Item weight: | 19lbs |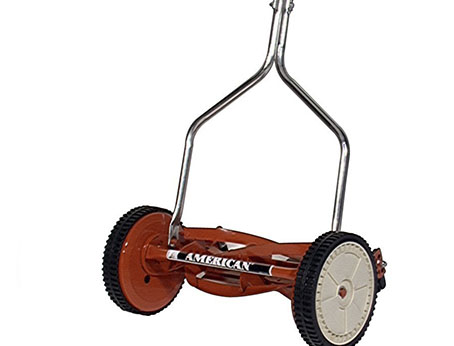 Design/Build Quality
The American is made of a shiny alloy steel for a sturdy, vintage inspired, structure. That description sums everything up accurately, and, besides the Fiskars Staysharp Max, reel mowers have a relatively simple construction.
Although the construction may be simple there is always more to the story than meets the eye. Read on for our full review.
What we like
The American is a sturdy machine that excels at cutting grass cleanly. The mower is especially useful against grasses such as bluegrass, fescue, and rye.
Rugged wheels: These polymer wheels are strong enough to roll over any small yard obstacle. The treads ensure they retain a strong grip on the underlying terrain.
Roller: This device is attached to the back of the mower, and helps smooth the grass after it has been cut. It will provide a well manicured look to keep your lawn looking great.
Robust Handle: The handle is hardened, but coated with a soft padding, so your hands will not get calloused after a heavy day of mowing.
Quality Test
Any mower that leaves the American warehouse has to first undergo a demanding quality control test that almost sounds fake-cutting paper to the infinitesimal thickness of 1/3000 of an inch. This test speaks volumes of the American company's devotion to quality control. Few companies would be willing to test their products to such exacting measures.Rest assured, your mower will be able to cut grass (which is far thicker than paper) incredibly close.
Downsides
Small width: The mower only has a 14' cutting swath, which means it can only be used on smaller lawns. I guess you could feasibly mow a large lawn, but it would drive the BLMR team crazy.
Wet Grass: This mower will push through wet grass, but only with significant effort. It works best when the grass is thinner and dryer.
Final Thoughts
The American is an affordable mower with decent performance. It is ideal for a small lawn, and is a sturdily built product. On top of everything, the design is so nostalgia inducing you'll be the envy of the neighbors.