Gardena 4023 Reel Mower Review
Editor Rating -

8.7/10

Customer Rating -

8.3/10
Summary
This is the Rolls Royce of reel mowers; it may be expensive, but the Gardena 4023 is one of the best overall reel mowers we have reviewed.
| | |
| --- | --- |
| Model Number: | 4023 |
| Cutting Width: | 15' |
| Where grass is disposed: | rear |
| Cutting height: | 1'-2.5' |
| Item weight: | 20lbs |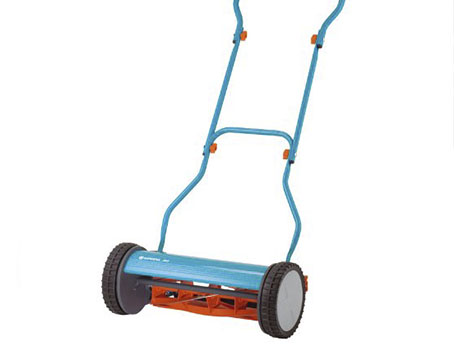 Design/Build Quality
The Gardena is beautifully designed both from an aesthetic standpoint (great turquoise color)and a mechanical one. It has a contact free reel, ground bottom blade, is foldable and disassembles for transport.
What these features mean for you:
The contact free blades mean that mowing with the gardena will be

extremely quiet.

This impressive feat is accomplished, because the reel does not actually come into contact with the inside blade during mowing. The scraping of the reel against the blade (traditional whirring sound) is completely absent.

The ground blade is incredibly sharp, and will provide a clean cut.

The fact that that the mower is incredibly light and easy to fold/transport will make finding a place to store it simple. Similarly, the ability to remove the handle means you will always have a place to store this mower.
Cutting Experience:
Performance on thick grass: The mower will work on thicker grasses, but be wary of Zoysia, Bermuda, and St. Augustine

if they grow tall

. The main enemy of reel mowers is tall grass, which buckles under the weight of the mower instead of staying rigid so it can be cut. Therefore, it is more important to make sure the lawn doesn't get too long than it is to worry about the actual variety of grass.

Lawn size: This mower has a very small cutting with and is

only

suitable for small yards. Even a medium sized lawn would take a long amount of time to mow with this mower.

Ease of use: The Gardena's large wheels make it easy to push and steer. It is adept at turning, but you will still struggle to mow extremely close to objects, because the wheels are on the outside of the blade path. This is not a major deal breaker, because you can easily finish up with a weedwhacker.
Downsides
The price is limiting. Although, this is a high quality mower we feel that it is a bit overpriced.
Q&A
Final Thoughts
The Gardena 4023 is a pricey, yet powerful mower. It cuts grass cleanly, and has a slew of convenient storage features. All of this in a beautiful blue metal frame that will last a lifetime. If you can afford it, this reel mower receives our highest recommendation for keeping small lawns looking great.