Brill Razorcut 38 Review
Editor Rating -

7.5/10

Customer Rating -

6.9/10
Summary
This Razorcut 38 mower is the lightest reel mower we have ever reviewed. This machine from the German company Brill has some discontinuities that prevent it from receiving a higher value score.
Read on to find out what makes the Brill so great, and what it needs to improve on.
| | |
| --- | --- |
| Model Number: | 78371 |
| Cutting Width: | 15' |
| Where grass is disposed: | backwards |
| Cutting height: | .7'-1.8' |
| Item weight: | 18lbs |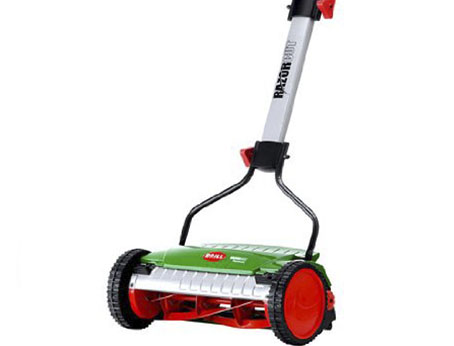 Design/Build Quality
The Germans are known for their engineering prowess, but there were some oversights in the manufacturing of this mower. The main one was the overuse of plastic parts, which are not as durable. The mower is not all bad, the cutting reel is nicely made with fire hardened steel blades. Additionally, the bearings are sealed, so you don't have to worry about the mower becoming hard to push.
What we like
Flower Guard: This mower features a top cover to prevent the blades from damaging flowers and other nearby foliage. We hate mowers that can't control the specific area they cut, but this one manages its blades well.
Extended Spoiler: One common aggravation that comes from using reel mowers is getting grass clippings sprayed at you from behind. The Razorcut's spoiler decreases the amount of clipping backlash you receive when you mow, and thus keeps you cleaner and less irritated.
Powder Coat: The universally applied dry powder coat strengthens the metal components of the lawn mower. This extra durability will go a long way in preserving the longevity of the machine.
10 minute assembly: The only additional assembly required is attaching the handle to the body of the mower.
Sharp blades: The five blades mounted on the cylinder stay sharp for 8 years. This is a testament to how well the blades were made. Other reel mower blades only last for around 3 years before requiring sharpening.
Downsides
Cannot cut thick grass: The mower is so light that it struggles to cut thick grass. For St. Augustine, Zoysia, and Bermuda a heavier reel mower such as the Fiskars Staysharp Max is recommended.
2. Small cutting height: The max cutting height is incredibly small, which severly limits the use of this mower. It is not healthy for grass to be cut near its roots, but by using even the highest setting the grass will still be cut too short.
Q&A
Final Thoughts
The Brill starts out as an excellent machine, but has two large downfalls in that it cannot cut tall/thick grass, and that its max cutting height is too short for the average lawn. Overall we might recommend the Brill for a small lawn, but overall we feel more confident in some of our higher ranked options such as as the Fiskars StaySharp Max and Great States.