Fiskars Staysharp Max Reel Mower Review
Editor Rating -

9/10

Customer Rating -

8.7/10
Summary
This mower is one of the hottest reel mowers available. It has a feature set that is leaps and bounds ahead of its competitors. With these abilities, and plenty of endorsements from internet bloggers, we knew this mower was worth diving into.
| | |
| --- | --- |
| Model Number: | 62016935J |
| Cutting Width: | 18' |
| Where grass is disposed: | thrown forward |
| Cutting height: | 1'-4' |
| Item weight: | 52lbs |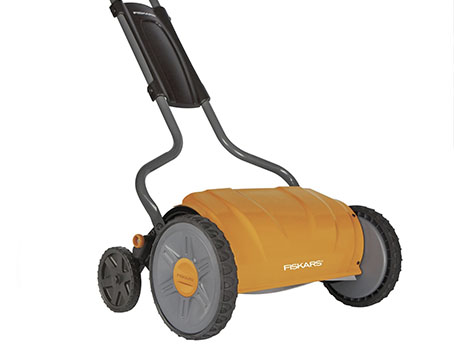 Design/Build Quality
The Staysharp has a plastic reel cover that forces the grass clippings to be propelled in front of you. The handle is made of metal and covered in a soft foam. The reel revolves using a chain belt system, which is more complex than competing mowers.
Features
Staysharp cutting system: Like other mowers we have reviewed this Fiskar reel mower has contact free blades, which means that there will be longer intervals between when you need to sharpen the blades. Eventually, you will have to sharpen the blades, but Fiskars says the estimated life before sharpening is 5-10 years. Either way, you will need to learn how to sharpen the blade or find a professional to do it for you. This is a practical reality of owning a reel mower.
Pushing is simple: The heavy construction of the Staysharp means getting it out of the garage might be harder, but mowing becomes easy, because you build momentum. Fiskars rates their mower as 60% easier to push than a conventional reel mower. Additionally, the heavier weight allows the mower to stay more firmly planted on the ground while traversing bumps.
Works on Thick Grass (READ Zoysia, St. Augustine, and Bermuda): The use of their trademarked InertiaDrive reel is said to deliver 200% more power than a traditional reel mower. This means the mower will be able to chop weeds and small twigs.
Highest Cutting Height: The Staysharp has the highest cutting height out of any reel mower we have reviewed. This makes the mower exceptional at cutting taller grasses.
Downsides
Not as wide as advertised: The width is deceiving, because when in actual use the mower does not cut 18 inches, but more like 16. This is a large inconvenience if you are buying the mower specifically for its "large" cutting width.
When cutting at lower heights the mower can jam up, and must be pushed around a little before the reel will begin moving again.
Q&A
Final Thoughts
The Fiskars Staysharp Max is the most powerful push reel mower we have reviewed. It has a potent combination of features that make it a must-choose for people who want a fun, effective, and innovative way to mow their lawn. This is a great value for your money and the environment as well.