Black+Decker CM2040 Review
Editor Rating -

8.5/10

Customer Rating -

7.9/10
Summary
If there is one company that influences a lot of markets it would have to be Black+Decker. They produce everything from coffee machines to vacuums to electric lawnmowers. It is not as full featured as the Greenworks LINK LINK LINK, but it is captivating in its own way.
How did this appliance maker create a top notch e-mower? Let's find out.
| | |
| --- | --- |
| Model Number: | CM2040 |
| Cutting Width: | 20'' |
| Ignition Method: | electric start |
| Max cutting time: | 45 minutes |
| Power: | 40v |
| Drive: | manual push |
| Deck Material: | Steel |
| Cutting Height: | 1.19'-3.53' |
| Included Accessories: | Grass bag |
| Weight: | 59.5lb |
| Speed: | manual push |
| Clipping Discharge: | Rear bag/Mulch/Side discharge |
| Consumer Warranty: | 4 year tool/2 year battery |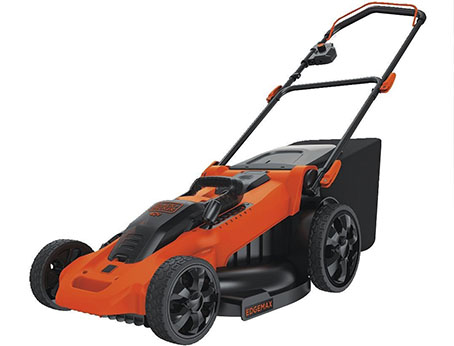 Pros
3 Discharge Methods: Some electric mowers do not support all three methods of releasing the cut grass clippings (mulching/bagging/side discharge). Thankfully, the B+D does, and that means that you can modify your cutting style based on the current lawn condition.
Auto Sense: The mower is able to evaluate the thickness of the grass as it is mowing, and automatically mete out more or less power as needed. What this means in a practical sense is that you do not need to worry about calibrating your mower/choosing a power setting the CM2040 does it for you.
Edge Max: This feature allows the mower to cut extremely close to obstacles like masonry and fences. It will help get rid of that ugly line of unkempt grass that ends up parallel to the fence when the mower cannot reach.
Grass Bag: This bag is not only large capacity (15 gallons), but also allows you to check how filled the bag is without removing it. Here at BLMR we love convenient features like that, because they reflect the manufacturer's commitment to excellence on even the smallest level.
Cons
Small cutting width: Like the Greenworks, this mower can only cut 20' swathes. This will work well for small or medium lawns, but nothing more.
Average battery life: A 45 minute max means you can expect between 30-45 minutes in reality. This will work for most lawns, but if you are concerned it won't last for your lawn then opt for the Greenworks mower.
Q&A
Final Thoughts
The Black and Decker CM2040 is great machine. It is held back by its lower battery life and smaller cutting width, but its adaptive cutting features and ergonomics raise it to a prominent position in our list of top electric mowers. This is a great first electric mower, and works especially well for people with small to medium lawns. Unlike some other mowing brands, this product is also easily serviceable because it comes from an established company with wide reaching services. Ultimately, this is a solid electric mower that deserves your consideration.