GreenWorks 25302 electric mower review
Editor Rating -

9.3/10

Customer Rating -

9.1/10
Summary
Greenworks is a company started in Europe to produce exceptional, electric lawn care products. While other companies make some great all around electric mowers (EGO comes to mind LINK LINK LINK) the Greenworks mower stands out for its incredible features. The team behind this mower has thought of everything. From the strength of the cut to the ergonomics this mower reigns supreme.
So what makes this mower one of our favorites on the site, and our top electric mower pick? Let's find out.
| | |
| --- | --- |
| Model Number: | 25302 |
| Cutting Width: | 20'' |
| Ignition Method: | electric start |
| Max cutting time: | 80 minutes |
| Power: | 40v |
| Drive: | manual push |
| Deck Material: | Steel |
| Cutting Height: | 1.19'-3.53' |
| Included Accessories: | none |
| Weight: | 42.5lb |
| Speed: | manual push |
| Clipping Discharge: | Rear bag/Mulch |
| Consumer Warranty: | 4 year tool/2 year battery |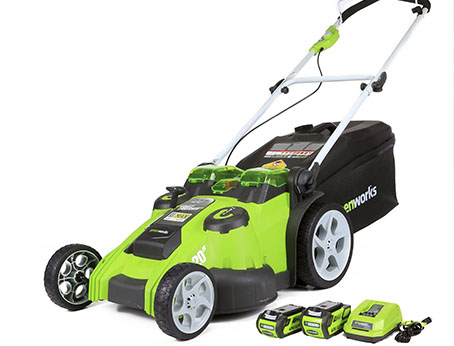 Pros
Twin Blades: It starts off with a great twin blade setup to finely cut your lawn. Having two blades also means the mower is more efficient, so the power from the batteries is used more economically.
Dual Batteries: It is powered by not one, but two batteries so you will almost never run out of charge mid cut (unless you have a massive lawn in which case consider a riding lawn mower such as this one LINK LINK LINK).
Power: Worried that your electric mower will be too weak to handle the task of mowing your lawn? Don't be. These batteries are 40V and provide the same power as an average gas-powered mower (although if you want the ultimate in electric power click here LINK LINK LINK TO EGO.
1 lever height adjustment:  Hate adjusting each wheel's height separately? Well there is one lever that adjusts them all at the same time. The mower can cut in five positions to ensure you'll be able to achieve a clean cut regardless of growth.
Electric start: Hate using a pull cord start? No worries, just press a button. Now you don't need to strain your back with the rip cord that never seems to start.
Quiet: Loud mowing bothering the neighbors? This mower is quiet, and even has less vibrations. It will eliminate all those awkward conversations about how you should "mow at a different time."
Safety Key: I wanted to emphasize this feature separately because I personally find it simple yet important. The mower will not start unless a small plastic key is inserted into it. In an age where lawnmowing accidents can cause some traumatic injuries-especially when little kids accidently turn them on-this feature is a Godsend.
Versatility: The same batteries that power your Greenworks mower will also power over 25 other electric tools from Greenworks (chainsaws, blower, weed wacker, etc.). If you don't already have these tools, and are planning on buying them in the future it will be convenient to have cross battery compatibility. If you already have the aforementioned tools, ignore this benefit.
Warranty: The warranty covers both the battery and the mower itself. This means that you are covered if either malfunctions. Bearing that in mind, the battery warranty is only 2 years while the remaining parts are 4 years, so be cognizant of that.
Cons
Small cutting width: There is only a 20' cutting swathe which means if you have a larger lawn this mower will take longer to cut it. A better alternative might be the EGO+ LINK LINK LINK (if you want electric). Other than that, for small to medium sized lawns this mower is a dream.
Q&A
Final Thoughts
The Greenworks is the unequivocal best electric lawn mower for small to medium sized lawns. It is well built and performs its job with precision. The addition of advanced features and a safety key are the cherry on top. Once you purchase this mower you will be impressed with how well all these capabilities work together to create the ultimate mowing experience. So, without hesitation, we recommend the Greenworks 25302 knowing full well it will serve you well in your mowing endeavors.