Sun Joe iON16LM Review for 2022
Editor Rating -

8/10

Customer Rating -

7/10
Summary
Sun Joe's iON 16LM is a small, but agile machine. It is perfect for small lawns, and although it is not stocked with numerous additional features (a la Greenworks LINK LINK LINK) it gets the job done.
If you want to see how this mower's features translate into real world performance then read on.
| | |
| --- | --- |
| Model Number: | iON16LM |
| Cutting Width: | 16'' |
| Ignition Method: | electric start |
| Max cutting time: | 45 minutes |
| Power: | 40v |
| Drive: | manual push |
| Deck Material: | plastic |
| Cutting Height: | 1.5'-3.5'' |
| Included Accessories: | Grass bag |
| Weight: | 33lb |
| Speed: | manual push |
| Clipping Discharge: | Rear bag |
| Consumer Warranty: | 2 year mower |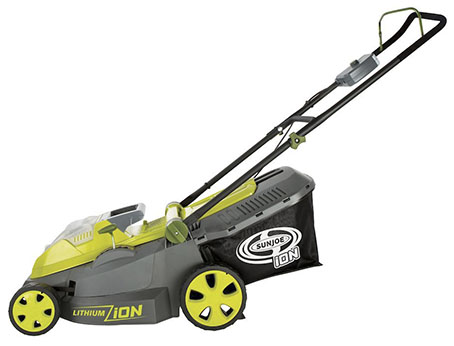 Pros
Brushless motor: This mower will automatically adjust the power it expends based on the thickness of the grass. Since the mower is not operating at max power 100% of the time (instead only when it needs to) the engine will last longer, there will be less noise/vibration, and the battery life will be higher.

Light: The mower is only 33 pounds, making it one of the lightest mowers we have ever reviewed (excluding these cute robot mowers). A low weight is especially important for a push propelled motor. One user reported that he was able to easily push it up inclines, because of the lightness.

Ergonomic Handle: The quality of the handle arguably influences the mowing experience more than anything else. This handle is gently contoured to be comfortable to grip.

All Terrain Wheels: The rear wheels are capable of traversing any terrain, and they complement the light/compact structure perfectly. This mower is incredibly maneuverable.
Cons
Small cutting width: Unlike some of our other larger electric mowers the Sun Joe can only cut 16' tracts at a time. This means if you have a large lawn (even medium is pushing it) the iON16LM isn't for you.

Average battery life: Like we mentioned with other mowers if you have a small to medium sized lawn this mower should last for the duration of the cut, but if not-look elsewhere.

Tall grass weakness: This mower is not strong enough to handles tall grass well. If you haven't cut your grass in a while expect to make 2 passes, before it is at an acceptable length. After that, the Sun Joe will work great if used on a weekly basis.
Q&A
Final Thoughts
The Sun Joe iON16LM is a great little mower (and we don't mean that in a diminutive way). It's compact design, easy operation, and maneuverability make it a stand out pick for small lawns. If you have a medium-large lawn, or frequently let the grass grow for too long then you might want to consider another option. If you do choose the iON then we are sure this little guy will give you years of quality service.