EGO Electric Mower Review
Editor Rating -

8.7/10

Customer Rating -

8.3/10
Summary
The EGO Electric mower excels in a variety of ways, but its standout feature is the amount of power it drives to the blades. Without competition, the EGO is the most powerful electric lawnmower available. That being said, the EGO vs Greenworks electric mower debate is real and raging. We will be comparing the two throughout this article so you can make an informed decision.
Keep reading for our full review.
Want to just see which is better: Greenworks or EGO? Click here. LINK LINK LINK (To scroll down)
| | |
| --- | --- |
| Model Number: | LM2002 |
| Cutting Width: | 20'' |
| Ignition Method: | electric start |
| Max cutting time: | 45 minutes |
| Power: | 56v |
| Drive: | manual push |
| Deck Material: | plastic |
| Cutting Height: | 1.5'-3.5'' |
| Included Accessories: | Grass bag |
| Weight: | 56.22lb |
| Speed: | manual push |
| Clipping Discharge: | Rear bag/Mulch/Side discharge |
| Consumer Warranty: | 5 year tool/3 year battery |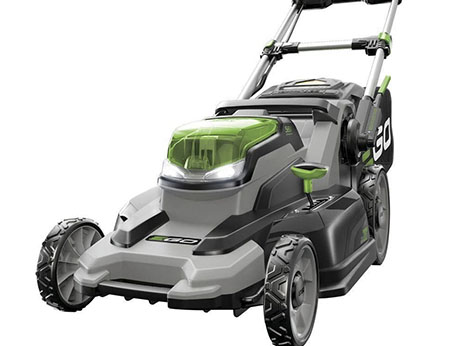 NOTE: When buying from Amazon the base model does not come with a battery or charger, you have to select "mower with 5.0 battery kit." This will ensure you get the highest capacity battery. There is a 4.0 battery as well, but that has less runtime and is only $50 less.
Pros
Strong 56v battery: Based on our research, this mower is the strongest consumer electric mower available. It will power through grasses at 3300 RPM with the same strength as a gas mower, but if you regularly mow tough grass this may not be the right mower for you. Mowing tall/wet grass will drain the battery faster, because the mower has to work harder to progress. Additionally, because the cutting deck is smaller and not domed, it is easier for the mower to get clogged if you try to cut too much grass at once.
LED headlights: This is the only mower we know of that has headlights. That means you can now mow in the early morning or evening. This might be a bad thing for you procrastinators though; now it is no longer an excuse to not mow the lawn, because it is dark outside.
Rapid Charging Battery: The battery can charge to full capacity in 30 minutes. This is phenomenal, especially when you consider that similar mower battery packs (the Greenworks) take two whole hours to charge.
Storage: The EGO can fold into a small package, and then be stored vertically. This opens up a lot of space in an otherwise crowded garage.
Cons
Battery life: The battery life needs to be an hour if you expect to mow a large lawn. The 45 minute estimate is a very optimistic, and relies on mowing conditions being ideal.

There are locking components on the handle that can snag on small shrubs or bushes as you mow.
Which is Better the EGO+ Power vs the Greenworks side by side comparison?
| | | |
| --- | --- | --- |
| | EGO+ Power | Greenworks 25302 |
| Price | More expensive | Less expensive |
| Battery Life | 45 minutes | 60-80 minutes |
| Power | 56v | 40v |
| Unique Features | Rapid charging,headlights, foldable/upright storage, 3 discharge options, | Quieter, safety key, dual blades |
Verdict
Buy the EGO if: You have a small to medium lawn and can afford it then the EGO is the machine for you. It has some legitimately useful extra features and a more powerful cut. The downside is the poorer battery life.
Buy the Greenworks if: You have a larger lawn and want a great value for your money. The Greenworks may lack some extra features, but its core ability to cut well AND for a long time makes it a great pick.
In the end it is hard to go wrong with either of these mowers. We are confident you will make a decision you are pleased with.
Q&A
Final Thoughts
The EGO mower is one of the top 2 electric mowers in our recommendation arsenal, and it holds its place there through a combination of power and smart features. You can't go wrong with the EGO; if you want a luxurious mower for a small to medium sized yard then you have found your mower. It may seem like a big investment at first, but bear in mind you are not paying for oil/gas, maintaining spark plugs, or (arguably the most important) damaging the environment with harmful emissions.